SBS Radio News
Vic teachers threaten 38-hour week in 2013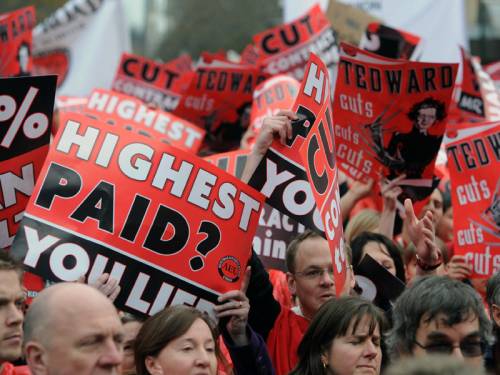 Victorian Premier Ted Baillieu says his government's offer to make the state's best teachers the highest paid in Australia is a good one.
Victorian public school teachers and support staff will stage rolling stoppages next term and refuse to work more than a 38-hour week in 2013 unless they reach a deal with the state government.
About 15,000 teachers rallied at Rod Laver Arena and marched to Parliament House on Wednesday as they rejected the Baillieu government's pay and conditions offer, which includes performance pay.
Australian Education Union (AEU) president Mary Bluett says if there is no agreement by the end of the year the government would have had the union's claim for two years.
"Teachers will implement from the start of next year a 38-hour week, no out-of-hours ... duties will be carried out," she told reporters on Wednesday.
"The mood today - very angry, very frustrated."
About 5000 more people rallied on Wednesday than turned out for the stop-work day in June, Ms Bluett said.
"It sends a very, very strong message to the premier that he has got to negotiate," she said.
"They (teachers and support staff) are absolutely determined that their profession is not going to be divided and our students aren't going to be short-changed."
Camps, excursions, musicals and sports before and after school would be affected if teachers worked a 38-hour week, she said.
The regional half-day stoppages will begin in the second week of term four but won't continue through VCE exams.
There will be a further one-day strike on February 14 next year unless an agreement is reached.
The AEU wants a 30 per cent pay increase over three years for teachers and more job security for teachers and support staff, many of whom are employed on a contract basis.
The government is standing by its offer of a 2.5 per cent pay rise, which it says will come with substantial bonuses for 70 per cent of teachers each year.
Premier Ted Baillieu said he made the remark that Victorian teachers should be the nation's best paid in 2008 before the last enterprise bargaining agreement (EBA).
He said he made it clear before the November 2010 election that the coalition would not pre-empt the EBA it would negotiate with teachers.
"There is nothing new in the industrial rhetoric nor the industrial action that's been taken today," Mr Baillieu told reporters in Ballarat.
"We have on the table an offer that would see the best performing teachers the best paid in the country."
Federal Workplace Relations Minister Bill Shorten offered to mediate to help break the stalemate.
He urged Mr Baillieu to "pull his socks up" and try harder to reach a compromise.
"You simply cannot trust conservative governments to conduct meaningful, productive, win-win workplace relations with their own employees," Mr Shorten told reporters in Melbourne.
Victorian Opposition Leader Daniel Andrews said the government should bargain in good faith with striking teachers.
"I've never seen a negotiation where one party is completely unwilling to sit down and actually talk," Mr Andrews told reporters.
"This government has shut down discussion, frozen out the unions in order to get an outcome, since April."
It was the first time support staff, such as teachers aides, have joined in industrial action.