SBS Radio News
Blockades spread as Vic stoush eases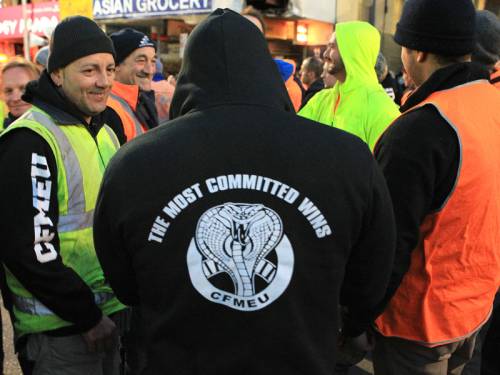 Work at the Grocon Emporium site has returned to normal after three weeks of picketing, but the industrial action has spread to other parts of Melbourne.
Construction workers have blockaded another two Melbourne sites, including a cancer centre, as Grocon managed to get operations back to normal at its main CBD project.
With the stalemate in its third week, 50 unionists blockaded a Grocon site in Footscray on Wednesday, while the developer also said work was blocked at a cancer centre in Parkville.
Operations returned to normal at the Emporium site after 80 workers were smuggled past the picketline that has been in place since August 22, a Grocon spokeswoman said.
Despite a weaker turnout at the CBD site on Wednesday the Construction, Forestry, Mining and Energy Union (CFMEU) has vowed to continue its protest for as long as is required.
"We're going to keep coming back," CFMEU Victorian president Ralph Edwards told union workers at the site.
Grocon accused the CFMEU of preventing subcontractors from entering its construction sites in Footscray and Parkville.
"There was no work at our Victorian Comprehensive Cancer Centre site and minimal work at the Footscray site," a Grocon spokeswoman said.
Victoria Police confirmed they attended a site in Footscray around 6am when about 50 people protested without incident, but the CFMEU said they were subcontractors who supported the union.
"The union understands that on other sites subcontractors who support the union's stance on safety reps were peacefully protesting," CFMEU state secretary Bill Oliver said in a statement.
Prime Minister Julia Gillard weighed into the stoush, calling for calm from both sides.
"What is happening in the streets of Melbourne is grossly unacceptable," Ms Gillard told ABC Radio.
"It is breaches of state law. It is illegal actions and picketing, and everybody should take a step back and get this dispute resolved.
"There's no excuse ever for unlawful conduct."
Victorian Premier Ted Baillieu said the CFMEU was thumbing its nose at the prime minister by extending the blockade to other sites.
"The notion that the CFMEU could now think that it's a good idea to blockade in addition, the Victorian Comprehensive Cancer Centre development, is extraordinary," he said.
"What a disgrace."
He renewed his call for Ms Gillard to change federal law so unions could be deregistered for ignoring Supreme Court orders.
Grocon CEO Daniel Grollo has said that regardless of what the union did next, the company would seek to recoup its losses from the CFMEU's actions, which it estimates at more than $370,000 a day at Melbourne's Emporium site alone.
Workplace Relations Minister Bill Shorten said they were well within their rights to sue blockading unionists for damages but added Grocon's rejection of a proposed ceasefire hadn't helped ease the bitter dispute.
A Victorian Supreme Court judge has reserved his decision after Grocon and the Victorian attorney-general sought a finding that previous injunctions for the blockade to end have been wilfully and repeatedly ignored.