SBS Radio News
We are responsible for bloodshed, Morsi tells Arabs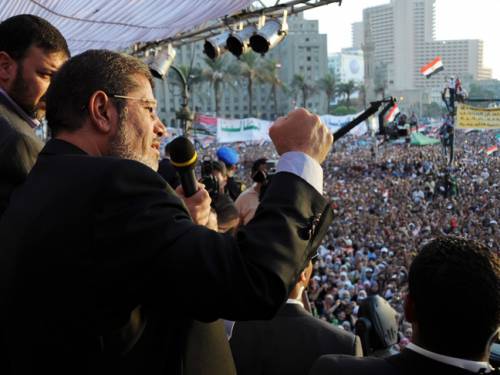 Egypt's President Morsi has attempted to rally Arab leaders to end the bloodshed in Syria, saying it is not too late to end the bloodshed.

Egyptian President Mohamed Morsi on Wednesday reiterated his call for the Syrian regime to step down, telling a meeting of the Arab League that a resolution to the crisis is an Arab responsibility.

"I tell the Syrian regime 'there is still a chance to end the bloodshed'," Morsi told Arab foreign ministers meeting in Cairo.

"Don't take the right step at the wrong time... because that would be the wrong step," he said.

"Now is the time for change," Morsi said, warning President Bashar al-Assad's regime to "take lessons from recent history."

Morsi, who in June was elected Egypt's first Islamist leader following an uprising that toppled Hosni Mubarak, urged the Arab diplomats to move quickly to resolve the Syrian conflict which has left 26,000 people dead since the revolt began 17 months ago, according to the Syrian Observatory for Human Rights.

He told ministers a resolution to the crisis is the responsibility of Arabs.

"The Syrian blood that is being shed day and night, we are responsible for this," Morsi said. "We cannot sleep while Syrian blood is being shed."

"I call on you, Arab foreign ministers, to work hard to find an urgent solution to the tragedy in Syria," Morsi said.

Addressing Arab states he said: "If we don't move, the world won't move with any seriousness."

Syria earlier mocked Morsi, saying his Islamist beard is the only thing that distinguishes him from the veteran strongman he replaced after last year's Arab Spring uprising.

Responding to high-profile criticism from Morsi at a Non-Aligned Movement summit in Tehran last week, Information Minister Omran al-Zohbi charged that the Egyptian leader was complicit in the armed revolt rocking his country.

"He is responsible for spilling Syrian blood, as are the Qataris, the Saudis and the Turks," Zohbi said.

"The only difference between him and (ousted strongman Hosni) Mubarak is that he has a beard."

The Syrian government prides itself on its secularism. The Muslim Brotherhood, for which Morsi successfully ran for Egypt's presidency earlier this year, has long been outlawed in Syria on pain of death. It is one of the most powerful factions within the opposition Syrian National Council.

Morsi caused a storm on Thursday when, on the first visit to Iran by an Egyptian leader in decades, he slammed Syria's regime as "oppressive" and urged support for rebels seeking President Bashar al-Assad's ouster.

"Our solidarity with the struggle of Syrians against an oppressive regime that has lost its legitimacy is an ethical duty, and a political and strategic necessity," he said.

Your Comments
Join the Discussion