SBS Radio News
CFMEU, Grocon dispute agreement terms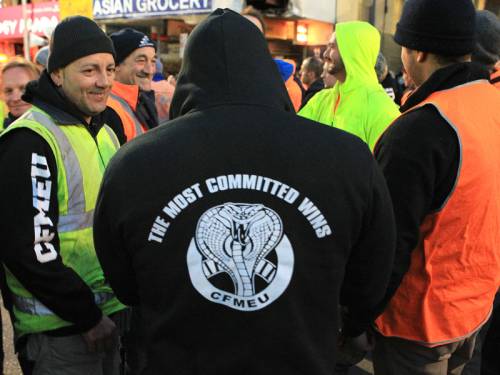 Grocon and the CFMEU are already disputing the terms of an agreement reached on Thursday to return to negotiations.
The ceasefire between Grocon and construction unionists is less than 24 hours old and already the parties are at odds over the conditions of the agreement.
The developer and the Construction, Forestry, Mining and Energy Union (CFMEU) on Thursday night agreed to return to negotiations, ending a 16-day blockade at the Grocon Emporium construction site in Melbourne's CBD.
But while Grocon CEO Daniel Grollo has hailed what he says is the unconditional end to the blockade, the CFMEU is saying the cessation of the protest is subject to conditions and unionists could return to the Emporium site - and others - if talks break down.
"The illegal activity has stopped and stopped for good," Mr Grollo told reporters on Friday.
"The facts are that the blockades are down. What we agreed last night was that the union would clarify their issues next week and we'll discuss those issues.
"It is unconditional."
CFMEU state secretary Bill Oliver disputed this, saying it was disappointing negotiations had started this way.
"There is nothing written in here that says we can't go back and have a peaceful demonstration the way we have been doing for the past 13 days," Mr Oliver said.
Mr Grollo said the union comments were directed at their constituents.
The parties will go to Fair Work Australia next week to begin mediated talks.
Mr Grollo says he hopes the CFMEU will clarify its concerns before talks begin.
"Frankly, I don't know the detail of the dispute and we'll see what the union puts to us over the next week or so," he said.
Grocon maintains the dispute was about an illegal blockade, while the CFMEU maintains it was about the appointment of safety stewards.
The union has a list of claims it wants to discuss with Grocon next week, Mr Oliver said.
Mr Grollo said the building company will continue to take legal action against the union to recover the $5-7 million the 16-day dispute has cost Grocon.
Federal Workplace Relations Minister Bill Shorten said he was pleased the dispute had been resolved but was unimpressed it went this far.
"Do I think the last 16 days were worth it? Probably not, definitely not," he said.