SBS Radio News
Viking sagas 'led to criminal profiling'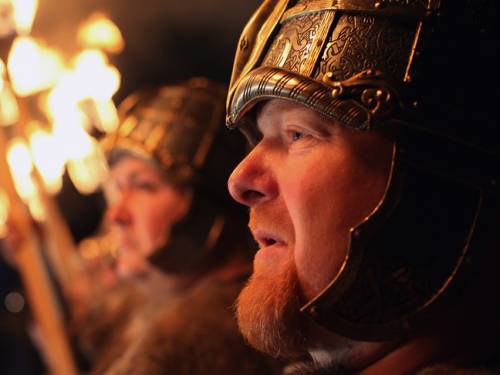 Trouble at home caused by wild and violent Vikings returning from raids may have led to the first criminal profiles, an expert claims.
Trouble at home caused by wild and violent Vikings returning from raids may have led to the first criminal profiles, an expert claims.
Icelandic sagas from the Viking age contain detailed descriptions of individuals most people would choose to avoid.
Notably they focus on aspects of physical appearance now known to be associated with high testosterone levels and aggression, according to historian Dr Tarrin Wills.
He believes the poems served as warnings at a time when disorder and violence threatened Icelandic society.
They featured colourful characters such as Egill Skallagrimsson, who committed his first murder at the age of seven and "had a lifelong interest in homicide".
Egill is described as having the classic testosterone-driven characteristics of a wide forehead and face, bushy beard, broad shoulders and receding hairline.
Shortly before he died he buried a hoard of treasure - and killed the two slaves who helped him hide it.
Egill possessed Viking qualities that may have been perfect for plundering but were not so welcome at home.
"A good Viking should be aggressive and dominant, he should go abroad, he should rape and pillage," said Dr Wills, from the University of Aberdeen.
"But many of these guys end up back home having to settle down to what is basically farming and family life. The kinds of guys that are good at rape and pillage aren't very good husbands and farmers.
"This was a particular problem in Iceland because Icelanders, like the rest of Scandinavia, had a very sophisticated legal system but no central government, no way of enforcing the law.
"Iceland at the time of the Vikings was akin to the wild west - an open territory with lots of young men where each person was trying to acquire enough land for himself, a wife and family. As a result it was extremely competitive and often violent."
Vikings got into fights for all sorts of reasons, he said. Typical causes of conflict were stealing neighbours' land, arguing over horses, insulting poems and even ball games.
Egill's first childhood homicide was the result of an argument while playing a game similar to rugby.
Dr Wills began investigating the way testosterone fuelled Viking behaviour after reading an article about hormones and aggressive, driven city traders.
"I followed this lead by reviewing the scientific literature on physiological and behaviour traits linked to testosterone," he said. "The profiles seemed to describe patterns I was familiar with in early 13th century Icelandic literature."
Such descriptions were unusual in writings from this time period, he said. Normally the authors restricted themselves to details relevant to story plot, or indications of a person's wealth or status.
Many of the sagas related to events from the 10th century but were not written down until the 13th century, by which time levels of violence in Iceland had escalated.
"I found clear indications that the authors of these sagas were acutely aware of the markers of high testosterone," Dr Wills said.
One saga describes the author being attacked by a group of men. For each member of the gang, level of involvement in the attack is tied to physical testosterone indicators.
Dr Wills, whose work is published in the journal Viking and Medieval Scandinavia, added: "So were the Icelanders the first criminal profilers? I've yet to encounter any similar kind of descriptions in the early literature that I've read. And they certainly had what seems to be an evidence-based approach that was very close to our modern scientific knowledge of the relationship between physiology and behaviour."