SBS Radio News
Scott expects Cats to keep contending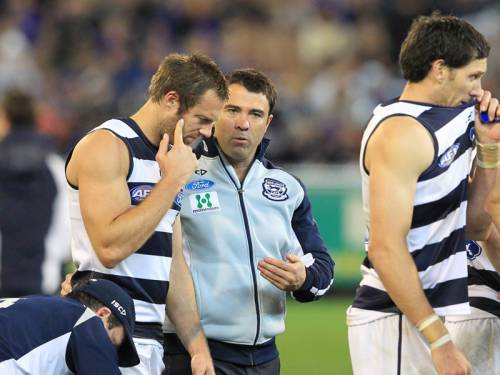 Despite being outplayed by Fremantle in their AFL elimination final, Geelong coach Chris Scott never stopped believing.
Geelong coach Chris Scott fully expects his Cats to keep contending in the coming years despite suffering the earliest finals exit since their remarkable modern-day reign of AFL dominance began.
Geelong were jumped early by Fremantle, who booted the first seven goals of Saturday night's elimination final at the MCG.
Inevitably the Cats fought their way back into the contest, although the final margin of 16 points flattered them, even if Scott insisted they were still a chance of snatching an unlikely win late in the final term.
One of the toughest post-season tasks for Scott and his coaching staff will be restructuring the backline following the retirement of Matthew Scarlett, a player described as "irreplaceable" by his triple premiership-winning teammate Andrew Mackie.
Geelong introduced a remarkable 10 debutants in 2012, which Scott said would hold them in good stead in years to come.
This is despite the process not being quite as seamless as in 2011, when the likes of Mitch Duncan, Daniel Menzel and Allen Christensen adapted straight away to the demands of senior football.
"We're all extremely disappointed," said Scott, in the wake of the 14.12 (96) to 11.14 (80) loss to the Dockers.
"It's going to take a long time for us to get over it.
"But there is, as strange as it sounds, a sense of optimism at our club.
"We think we faced the challenges we had this year, and last year to be honest, head-on.
"We certainly didn't get where we wanted to be at the end of the home and away season.
"... Given the things we've tried to do to rejuvenate our list and give some experience to young players, on a lot of fronts it's been a positive year.
"And to be able to say with a straight face that we thought our best footy was good enough to test anyone, I think leaves us in a pretty positive position."
Mackie - who along with captain Joel Selwood was among only a few good Geelong players on Saturday night - was also confident the Cats were not witnessing the end of an era which netted flags in 2007, 2009 and 2011, along with a grand final defeat to Hawthorn in 2008.
"It's easy to say it, but I really think we're in good shape," said Mackie.
"We'll have a couple of new recruits next year, young Daniel Menzel is going to find his way back from another reco and Nathan Vardy has only played a couple of games back (from injury).
"We're going to be thereabouts again."
Scarlett, 33, will be the Cats' most decorated retiree from 2012.
His departure comes 12 months after the club bid farewell to the likes of Cameron Ling, Brad Ottens, Cameron Mooney and Darren Milburn.
Ling and Ottens have proved particularly difficult to replace, as will Scarlett, for so long the cornerstone of a peerless defensive unit.