SBS Radio News
Raiders batter Sharks out of NRL finals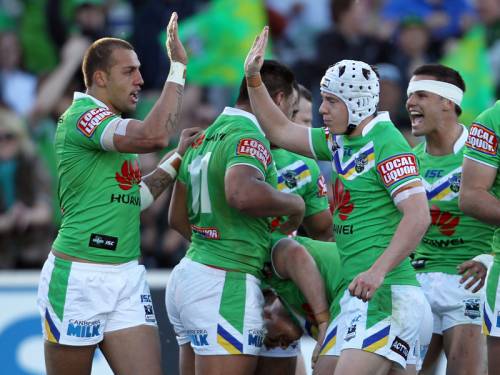 Canberra have beaten Cronulla 34-16 in Sunday's NRL elimination final to advance to a sudden-death semi-final against South Sydney on Saturday night.
Canberra's decision to target Cronulla's two superstars worked a treat as the Raiders battered the Sharks into submission in advancing to an NRL semi-final against South Sydney on Saturday night.
Four tries in the last 13 minutes powered the Raiders' 34-16 win over the Sharks in Sunday's NRL elimination final at Canberra Stadium, but it was the work in the preceding 67 minutes which paved the way to success.
They did it by going after star duo Paul Gallen and Todd Carney - the latter failing to see out the contest as the Achilles injury he had needled before the game and again at halftime gave way eight minutes into the second stanza.
Negating Gallen was Josh Papalii's personal mission, with the young Kiwi belting the Sharks skipper with several massive hits.
"Furnsey (coach David Furner) gave him a few words of encouragement to get over him (Gallen) early in the game and I thought Papa really stood up there, it was good," Raiders captain David Shillington said.
"He got up him a few times and Gal didn't handle it very well."
Told of Shillington's comments, Gallen - who warned referee Tony Archer he'd take matters into his own hands after a big hit to the ribs floored him - said:
"He can say what he wants, I don't care, we're out of the comp.
"They had a plan to target me.
"I don't really care about Papalii. He hit a dog shot with a swinging arm and once in the back without the ball."
Papalii said his assignment was a difficult one but he was happy to have played a part in getting the Raiders through to next weekend.
"It was pretty tough, he scared me a little bit, but I think that's just footy. There are no hard feelings. It was the heat of the moment," said Papalii.
Furner said he picked up on Carney's injury issues, with scans likely to confirm the need for off-season surgery, and they ran plenty of traffic his way.
"I did have a look at their warm-up and noticed that in their left edge and right edge that Toddy wasn't in it there," Furner said.
"I did see that, how long he was going to last I wasn't sure."
Even with their captain battered and their star playmaker off the field, the Sharks were unlucky not to be in the lead when just shortly after Wade Graham scored, Jeff Robson was denied a try due to an obstruction.
"First look at it I thought he (Jeremy Smith) was two defenders in and didn't have too much contact with the player," Sharks coach Shane Flanagan said.
Still, the Sharks only trailed 18-16 with a quarter of the game to go - though there was more than a hint of a forward pass in the lead-up to Nathan Stapleton's try on 60 minutes.
Up stepped Blake Ferguson, the former Shark who famously said on leaving Cronulla he was going because he wanted to win a premiership.
He reeled in a Sam Williams bomb for his first try in the 67th minute before grabbing another in between tries to Glen Buttriss and Williams.