SBS Radio News
Seafish lobbies crossbenchers on trawler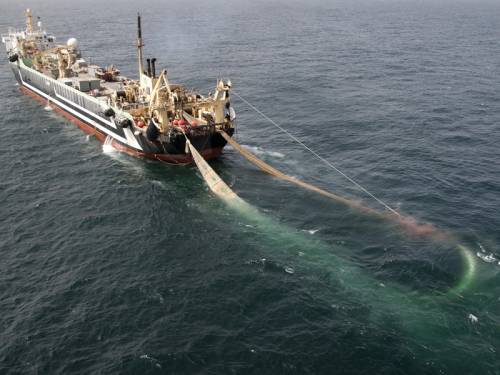 The operators of the controversial super-trawler Abel Tasman are hoping the federal government's legislation to ban the boat will be defeated.
Super-trawler operators Seafish Tasmania have been lobbying crossbenchers to vote against a ban on the controversial Abel Tasman as federal government legislation is debated in parliament.
Seafish director Gerry Geen was holding out some hope the bill could be defeated and the factory ship could still fish for the company's quota of 18,000 tonnes of small pelagic fish.
"We've been trying to talk to a few (politicians)," Mr Geen told AAP.
"We do actually have someone in Parliament House who's actually chasing them up."
Environment Minister Tony Burke introduced a bill to give him the power to suspend a fishing activity for up to two years while an independent expert panel assess its environmental, social and economic impacts.
Labor was likely to get the bill through parliament with the support of the Australian Greens and independents Craig Thomson, Andrew Wilkie and Bob Katter.
But Mr Geen, who earlier in the day had thanked the Liberal party for supporting his company, said it was business as usual on board the ship until the ban was official.
"Until we're told to stop we're just continuing to do the things that we've been doing, which is trying to get the vessel ready for fishing, to get all the necessary approvals," he said.
He said the captain of the 142-metre vessel had been briefed and he was keeping crew up to date with developments.
Seafish has meanwhile hired a law firm to examine the possibility of legal action against the government or a claim for compensation.
Mr Geen said the Abel Tasman, which sailed from The Netherlands to fish Australian waters, was costing the company and its Dutch partner Parlevliet & Van der Plas BV tens of thousands of dollars a day.
He said Seafish had gone as far as bringing executives from The Netherlands several months ago to get an assurance from the Australian Fisheries Management Authority that the trawler would be treated like any other boat.
"They're in a state of shock that we followed all the rules all the way through," he said.
"They got that assurance.
"They were very happy with what they heard and then they were willing to invest and bring their boat halfway around the world."
Mr Geen said the company's quota would be useless without the Abel Tasman and sending out several smaller boats would result in worse environmental outcomes.
"There's stacks of seals around the shores of Tasmania but they're not out in the middle of the Great Australian Bight," he said.
"If you replace this boat with a number of smaller boats you would get higher amounts of bycatch, there's no question about it.
"Frankly, we wouldn't even buy a vessel, even a smaller boat, to fish (the quota) because we'd have no idea whether or not the minister would declare it to be something that requires extra study and would hold us up for two years."
He rejected Mr Burke's suggestion that more science was needed after seven prominent scientists had supported Seafish.
"You either accept what the scientists say or you don't," Mr Geen said.
"This is seven of our best marine scientists and they're saying there's no problem."