SBS Radio News
Anti-Islam film protests erupt in Sydney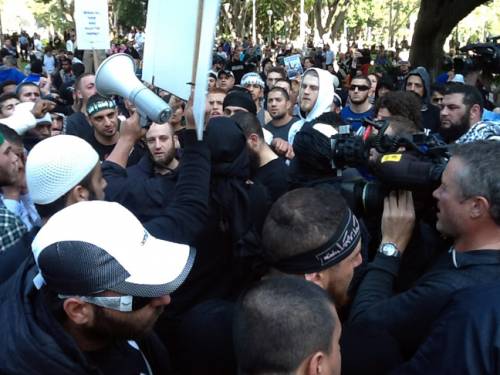 Hundreds of protesters clashed with police in Sydney, as a wave of unrest against a film that mocks Islam spread to Australia, with bottles and shoes hurled outside the US consulate.
Police have fired tear gas at protesters after a demonstration against an anti-Islam video turned violent.

Two men have also been taken to hospital after being bitten by police dogs.

More than 100 police have formed a ring around protesters in Hyde Park, who are carrying banners bearing slogans like "Behead all those who insult the Prophet" and "Our dead are in paradise, your dead are in hell".

The planned protest began at Sydney's Town Hall before moving outside the US Consulate in Martin Place.

The protest involves about 200 people and is the latest in a spate of protests at embassies in the Middle East, Africa, London and elsewhere over a vicious anti-Muslim video.

Shoppers looked on in surprise as protesters, including children, shouted "Down, down USA" and waved banners such as "Behead all those who insult the prophet".

"We are sick and tired of everyone mocking our beloved prophet," protester Houda Dib told AFP, as the crowd of about 500 gathered outside the US consulate.

"They have no right to mock our prophet. We don't go around mocking anyone's religion."

"They call us the terrorists," protester Sarah Jacob said. "But everyone is terrorising our people."

Demonstrators were pushed back from the steps outside the consulate by police, provoking anger among some in the crowd, many of whom had brought their children with them.

"They were aggravating the situation by pushing our brothers," Dib said. "This is supposed to be a peaceful protest."

The protesters later moved to nearby Hyde Park, where one speaker called for calm, saying the aim of their protest had been to send a message.

"We are here for the sake of our god," he said. "The message is clear, you cannot mock (the prophet)."