SBS Radio News
Peace envoy Brahimi meets Assad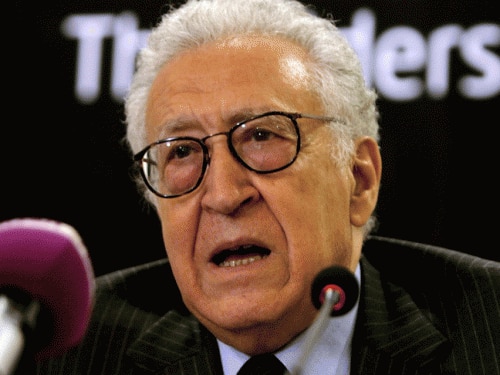 International envoy Lakhdar Brahimi has met with President Bashar al-Assad in Damascus, hoping to breathe life into stalled peace efforts, 18 months into Syria's deadly conflict.
International envoy Lakhdar Brahimi has met with President Bashar al-Assad in Damascus, hoping to breathe life into stalled peace efforts, 18 months into Syria's deadly conflict.

State television said Brahimi, on his first visit since being appointed earlier this month, went into the meeting with the Syrian leader but it gave no immediate details.

Brahimi, a veteran Algerian troubleshooter, has also held talks with Foreign Minister Walid Muallem and members of the officially tolerated opposition since he arrived in the Syrian capital on Thursday.

The envoy warned on arrival that the conflict is "getting worse," as underlined by the daily bloodshed.

The Syrian Observatory for Human Rights, which gathers information from a network of activists on the ground, said 132 people were killed in violence on Friday, including 100 civilians, 18 of whom died in the capital.

Brahimi held talks on Friday with Syrian opposition figures who said he was bringing "new ideas" to the peace effort, as blasts rocked Damascus and regime air strikes targeted rebel areas in the northern city of Aleppo.

He met with opposition groups tolerated by Assad's regime such as the National Coordination Committee for Democratic Change, which groups Arab nationalists, Kurds and socialists.

"We told Mr Brahimi... of our support for his efforts to resolve the crisis by ending the violence and killings, providing medical care and releasing political prisoners," Hassan Abdel Azim, the bloc spokesman, told reporters.

Brahimi will "listen to the opposition and officials and crystalise new ideas and a plan that could succeed," he said after the talks in a Damascus hotel, adding the peace initiative of his predecessor Kofi Annan would be amended.

"There will be new ideas and measures," Abdel Azim told reporters.

He said a delegation of his group would leave on Saturday for China, a key Damascus ally, to urge Beijing to "put pressure on the regime to stop the violence, free detainees and allow peaceful protests."

United Nations spokeswoman Vannina Maestracci said that the international peace envoy would also hold talks on Saturday with Arab ambassadors and a European Union delegation.

Brahimi is on his first Damascus visit since his appointment to replace Annan who quit the post after a hard-sought peace deal he brokered became a dead letter.

The envoy has warned that the conflict is deteriorating.

"We came to Syria to hold meetings with our Syrian brothers because there is a big crisis, and I think it is getting worse," he said, quoted by Syria's official SANA news agency.

FIGHTING IN SEVERAL AREAS

Fighting raged in several areas on Friday, including parts of the capital.

Regime forces used fighter jets and helicopter gunships to pound the northern city of Aleppo and the province of the same name, where fierce clashes also raged around a military airport, monitors said.

Warplanes bombarded the rebel-held towns of Al-Bab and Marea near Aleppo city, said the Syrian Observatory, adding that army forces and rebels fought around Minnigh military airport.

Despite shelling by regime forces, as seen in videos posted online, residents of Marea, Aleppo city and towns across the northern province came out for anti-regime demonstrations after the weekly Muslim prayers, activists said.

Protests were also reported in the provinces of Damascus, Idlib, Daraa in the south and Hama in central Syria, the Observatory said, and the army stormed the Sayyida Zeinab district of southeast Damascus, making several arrests.

In the central Aleppo district of Midan, regime forces launched air strikes on two rebel-held police stations, according to Observatory director Rami Abdel Rahman.

In the Hanano district of northeast Aleppo, air strikes destroyed another police station in rebel hands, Abdel Rahman said.

Near the capital, at least 15 soldiers were killed or wounded in an attack on their vehicle in the town of Douma, where clashes broke out near the municipal building, according to the Observatory.

The monitoring group estimates that more than 27,000 people have been killed since the uprising against Assad's rule erupted in March last year. The United Nations puts the toll at 20,000.

In neighbouring Lebanon, Pope Benedict XVI on Friday started a weekend visit with a call for an end to arms imports to Syria. "Arms imports must stop once and for all, because without arms imports, war cannot continue," he told reporters.