SBS Radio News
8 arrested in Sydney protests sparked by anti-Islam film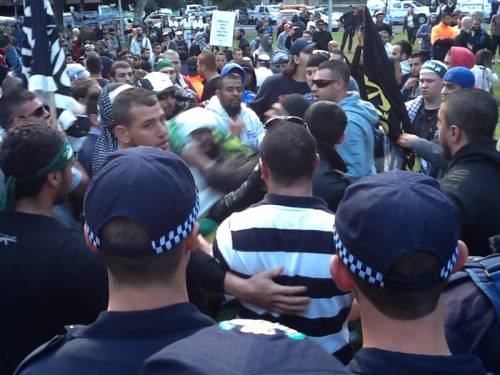 Eight people have been arrested and six police injured, after violent clashes between demonstrators and officers spread throughout Sydney's CBD today following the release of an anti-Islam film on YouTube.
Eight people have been arrested and six police injured after demonstrators clashed with officers in the streets of Sydney CBD.

About 1pm (AEST) on Saturday, "an unannounced and unapproved" group of people gathered at Town Hall in Sydney's CBD, before walking along George Street towards Martin Place, police said.

Conflict between police and the group then broke out, as they attempted to enter the US consulate within the MLC Centre.

A growing group of protesters then moved to Hyde Park where around 300 people gathered, waving banners that had slogans such as "Behead all those who insult the Prophet" and "Our dead are in paradise, your dead are in hell".

In the park, things again got out of hand, police Superintendent Mark Walton said.

Clashes broke out again, with police using capsicum spray on some protesters.

"The group was unorganised and clearly split into factions, being some people being here to express their concerns from their community perspective," Supt Walton told reporters.

"However, there were other elements of the group who were clearly here with another intent. They were aggressive and violent at times and came into contact with police."

He said eight people were arrested for various offences, including assaulting police and throwing a missile.

Six police were injured, two officers were hospitalised and at least two police vehicles were damaged during the demonstration.




Your Comments
Join the Discussion