SBS Radio News
50 held over ambassador's killing in Libya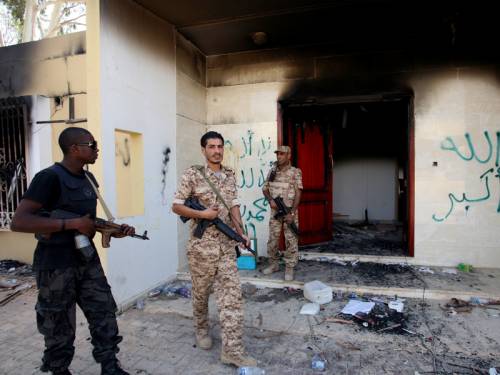 About 50 people have been arrested over the killing of US ambassador Chris Stevens in an attack the Libyan government says was planned by foreigners.
Libya's parliamentary chief has announced the arrests of some 50 people over the killing of US ambassador Chris Stevens in an attack he says was planned by foreigners.
US Defence Secretary Leon Panetta said, meanwhile, the American military has no major plans to bolster its forces in the Middle East despite a week of violent protests targeting diplomatic outposts, including at the US consulate in Libya's eastern city of Benghazi in which Stevens died.
"The number reached about 50," Mohammed al-Megaryef, president of the Libyan National Congress, told CBS News on Sunday.
Stevens and three other Americans were killed on Tuesday when suspected Islamic militants fired on the US consulate in Benghazi with rocket-propelled grenades and set it ablaze.
Megaryef said "a few" of those who joined in the attack were foreigners, who had entered Libya "from different directions, some of them definitely from Mali and Algeria".
"The others are affiliates and maybe sympathisers," he added.
Megaryef said the government had learned the attack was not the result of a spontaneous outburst of anger over a US-made anti-Islam movie, which has triggered sometimes deadly protests around the world.
"It was planned, definitely, it was planned by foreigners, by people who entered the country a few months ago. And they were planning this criminal act since their arrival," he told CBS.
Al-Qaeda in the Arabian Peninsula (AQAP) has said in a statement the attack was in revenge for the killing of the terror network's deputy leader Sheikh Abu Yahya al-Libi in a drone strike in June, and called for more attacks on US targets.
US officials have already deployed counter-terrorism Marine units to Libya and Yemen and stationed two destroyers off the North African coast.
Sudan on Saturday rejected a US request to send special forces to protect the Khartoum embassy.
Hours later, US officials announced Washington would evacuate all non-essential staff and family members from Sudan and Tunisia, and warned US citizens against travel to the two countries.
Although the US government has condemned the Innocence of Muslims - an amateur film produced in the United States - protests erupted again on Sunday, with hundreds of students pouring into the streets of Kabul shouting anti-American slogans.
Belgian police said they detained 230 people in the northern city of Antwerp after clashes at a demonstration against the film.
In Afghanistan, heavily armed Taliban fighters on Friday stormed a strongly fortified air base in Helmand province where Britain's Prince Harry is deployed, killing two US Marines in an assault the militia said was to avenge the anti-Islam film.
A NATO spokesman has revealed that six US fighter jets and three refuelling stations were destroyed and six aircraft hangars damaged in the attack.
Lieutenant Colonel Hagen Messer conceded that the scale of damage, carried out when more than a dozen attackers in US Army uniforms and armed with guns, rockets and suicide vests stormed the airfield, was unprecedented.
A total of 17 people have died in violence linked to the film, including the four Americans killed in Benghazi, 11 protesters who died as police battled to defend US missions from mobs in Egypt, Lebanon, Sudan, Tunisia and Yemen, and the two US soldiers in Afghanistan.