SBS Radio News
Amnesty reports indiscriminate strikes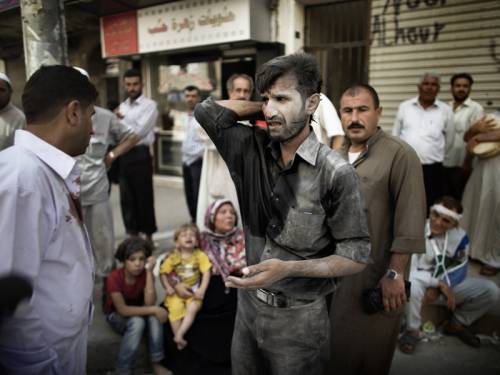 Amnesty International reports random bombings in Syria may be to punish towns under the de-facto control of opposition forces.
The Syrian government has carried out indiscriminate air bombardments and artillery strikes on residential areas that do not target opposition fighters or military objectives, Amnesty International says.
Much of the recent fighting has centred on the contested city of Aleppo, but the London-based group on Wednesday said hundreds of civilians in other parts of northern and central Syria have been killed or injured in recent weeks.
Many were children, in attacks that struck people in their homes, in the street or while trying to shelter from the bombings.
The conclusions were published in an Amnesty report that followed a visit to Syria by senior crisis researcher Donatella Rovera, who travelled to 26 towns and villages in the Jabal al-Zawiya area and other parts of the northern Idlib and north Hama regions between August 31 and September 11.
The 18-month conflict between the regime of President Bashar Assad and his opponents began with peaceful protests that were attacked by government security forces, and has since evolved into a civil war.
Activists say at least 23,000 people have died, many of them civilians, although rebel factions have also been accused of summary executions and other abuses.
Assad's regime, which has been subject to international condemnation, says it is fighting terrorism led by foreign fighters.
The Amnesty report included criticism of opposition fighters for alleged violations of human rights, saying both sides have operated in and launched attacks from residential areas.
But it focused mostly on the conduct of the regime, noting that random bombardments suggested that the aim of the strikes "may be to punish residents of towns and villages which are now under the de-facto control of opposition forces".
The report said unguided bombs dropped from the air and imprecise artillery shells and mortars are now being used daily against residential areas, significantly increasing the number of civilian casualties.
"Such indiscriminate attacks violate fundamental provisions of international humanitarian law, as they fail to distinguish between military targets and civilian objects," it added.
The Amnesty report detailed incidents of indiscriminate attacks in other parts of northern Syria where there were no armed confrontations or activities by opposition fighters at the time.
In an August 14 incident, four children aged 18 months to 11 years were killed when an aircraft dropped a bomb on their home in the village of Shellakh, near Idlib, collapsing the second floor onto the first floor, where the children were sleeping and playing.