SBS Radio News
Hasler to haunt Manly in Melbourne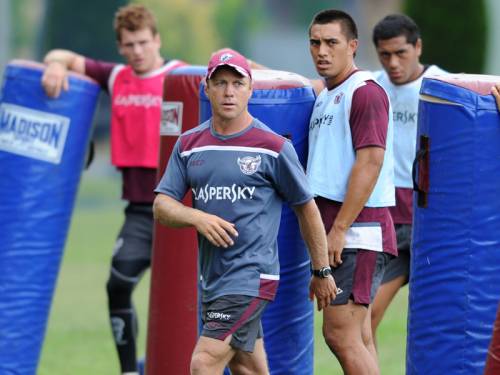 Bulldogs coach Des Hasler's successful game plan to quell Manly's attack will be part of Melbourne's mindset when they face the Sea Eagles on Friday night.
Manly coach Geoff Toovey is expecting Melbourne to subdue his side's attacking strike power in Friday night's NRL preliminary final by following the blueprint of former Sea Eagles coach Des Hasler.
In the first week of the finals, Canterbury mentor Hasler masterminded a hard-fought 16-10 win over the club he steered to last year's premiership before walking out in acrimonious circumstances.
Canterbury were able to strangle Manly's much-vaunted attack by limiting quick play-the-balls and preventing any momentum for the likes of back-rower Glenn Stewart and five-eighth Kieran Foran to puncture the defensive line.
Despite the Bulldogs claiming the minor premiership, the victory was regarded as an upset given defending premiers Manly entered the clash on a six-match winning streak and with their senior players returning to form and fitness.
The spiteful win earned Hasler's men a crucial week off before they face South Sydney in Saturday's other preliminary final.
Toovey is wary that Hasler's suffocating game plan is set to haunt his side at AAMI Park, especially given the Storm's much-publicised enthusiasm for wrestling in the tackle.
"They (Melbourne) are very good at controlling the ruck and slowing the ruck down just like the Bulldogs did to us a couple of weeks ago which was unfortunate," said Toovey on Wednesday.
"I thought there could've been a few more discretions penalised against them but that's the way it goes.
"We have to adapt and deal with that. Melbourne are very good at it and we'll have to combat that.
"We have in the past and there's no reason why we can't on Friday."
In Manly's favour is their phenomenal record of 11 straight wins in preliminary finals going back to 1975 and an impressive defensive display in a 22-12 win over North Queensland last Friday.
However, Toovey is adamant Melbourne should still be regarded as favourites given the class and experience of those returning from injuries for the Storm.
Senior forwards Sika Manu (back) and Todd Lowrie (pectoral muscle) were named in a 20-man squad on Tuesday while centre Will Chambers (hamstring) was also included.
Former Test and Origin prop Jason Ryles was also included, however he appears unlikely to play after aggravating his hamstring injury at training on Tuesday.
But even if Ryles doesn't pull through, the Storm are the closest they have been to full strength for a long time with winger Matt Duffie (shoulder) the only other top-line player missing from their strongest 17.
Toovey believes the inclusion of the abrasive Manu in particular means the Sea Eagles will need an upset to advance to next Sunday's premiership decider.
"Melbourne are probably the favourites - we're the underdogs and that's the way we like it," said Toovey.
"Because they've been up there for so long at this time of the year, I don't think they have too many weaknesses.
"They've got great depth which a lot of teams haven't got the luxury of.
"And with a lot of their senior players coming back from injury they'll even bolster their side more."
In response to Hasler's call to scrap the video referees, Toovey said the issue should be addressed but at the end of the season as a better system needs to be found.