SBS Radio News
Why does Australia want a UNSC seat?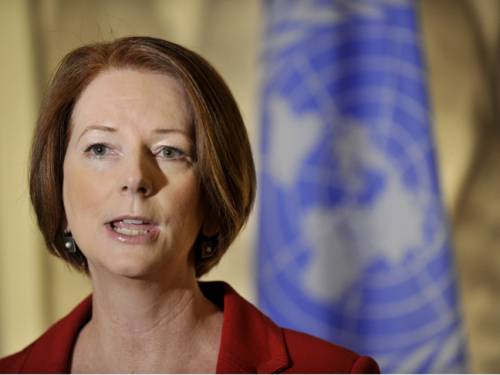 Who are we competing against, how does it work and most importantly, why is Prime Minister Julia Gillard bidding for a UN Security Council seat? writes Andy Park.

In Prime Minister Julia Gillard's drive for a non-permanent UN Security Council (UNSC) seat, Australia is competing against Luxembourg, who has never held a seat, and Finland who has twice had non-permanent terms.
In a move that might seem to soften expectations ahead of a disappointment, foreign minister Bob Carr today said that our bid, even a losing bid, would be worth it.
"I would justify every cent of that in fact as being useful in enhancing Australia's reputation," he said.

"The intensification of Australian diplomatic effort that has been part of the bid has been good in itself."
But out competition is far ahead of us.
Finland launched its UNSC campaign in 2002, one year after Luxembourg, with Australia not entering the race until 2008.

The earlier start gives the European rivals a clear advantage, according to Foreign Minister Bob Carr.

"The challenge is we took our merits into this race some time after our competition declared that they were in the race, six or five years after they had made their declaration and many nations have already committed to the people we are running against," Senator Carr told reporters in New York.
But nevermind the chances, why do we want a seat anyway?

The Federal Government has spent more than between $20 and $55 million on its bid for a UNSC non-permanent seat.

"Of course though much of the work that our Department of Foreign Affairs and Trade does routinely has been brought to bear to assist with the bid," Prime Minister Gillard said.

Australia looks like it has secured support from Asian, Caribbean and Pacific countries but Europe is backing their own candidates: Finland and Luxembourg.

NOT AUSTRALIA'S FIRST TIME

Australia has already had four two-year terms, under three Labor and one Liberal governments:

1946/1947:Ben Chifley (Labor)
1956/1957: Sir Robert Menzies (Liberal)
1973/1974: Gough Whitlam (Labor)
1985/1986: Bob Hawke (Labor)

THE MAIN COMPETITORS

Luxembourg: Population 509,074
Prime Minister Jean-Claude Juncker – Christian-democratic/conservative government in coalition with the Socialist Workers' Party.

Finland: Population 5,410,233
Presidentr Sauli Väinämö Niinistö – liberal conservative government.

Australia: Population: 22,738,548
Prime Minister Julia Gillard – ALP, traditionally a social-democratic political party.

WHO ARE THE P5?

The UN Security Council is composed of five permanent members:

China
France
Russian Federation
The United Kingdom
The United States
NON-PERMANENT MEMBERS

Australia is bidding for a non-permanent seat; the 10 non-permanent members and when their two-year terms end are:

Azerbaijan (2013)
India (2012)
South Africa (2012)
Colombia (2012)
Morocco (2013)
Togo (2013)
Germany (2012)
Pakistan (2013)
Guatemala (2013)
Portugal (2012)

Before these, the previous set of non-permanent members were Bosnia and Herzegovina, Brazil, Gabon, Lebanon and Nigeria.

HOW DOES THE UNSC WORK?

Each Council member has one vote and decisions on procedural matters are made by an affirmative vote of at least nine of the 15 members.

Under the Charter, all Members of the United Nations agree to accept and carry out the decisions of the Security Council.
While other organs of the United Nations make recommendations to Governments, the Council alone has the power to take decisions which Member States are obligated under the Charter to carry out.

WHAT IS A "VETO"?
A veto is a right reserved by members of the P5 only on substantive draft council resolution.
Decisions on "substantive" matters require nine votes, including the concurring votes of all five permanent members. This is the rule of "great Power unanimity", often referred to as the "veto" power.
Examples include:
2012 - China and Russia's veto on chapter 7 sanctions against Syria.
2011 - US vetoed a draft resolution condemning Israeli settlements in the West bank.
1989 - US, France, UK veto draft resolution condemning the US invasion of Panama.
Number of vetos used by each country since 1946.
SO WHY DOES AUSTRALIA WANT A UNSC SEAT?

Australia's campaign for a non-permanent seat began under former Prime Minister Rudd and the often cited and often criticised ambitions are to put Australia on the map, strategically and diplomatically.
Former Labor foreign minister Gareth Evans wrote in March 2012:
"Being, and being seen to be, an active player in pursuing co-operative global solutions to issues such as mass atrocity crimes, terrorism, trafficking in drugs, arms and people, and cross-border aggression both confers a general reputational benefit and significantly increases the chances of direct reciprocal support on issues of immediate concern to us, such as refugee flows."
Prime Minister Julia Gillard has argued that our peacekeeping role in the region should warrant our inclusion and said that UNSC membership will make "Australia able to have its voice heard at that level".
Opposition leader Tony Abbott has promised to discontinue the UNSC bid on account of cost and alternative coalition foreign policies, particularly in Africa.
"There are vastly higher priorities for Australia right now than pursuing a seat on the Security Council," he said in July 2012.
Kevin Rudd, for his part, said "when I launched our bid for the UN Security Council way back in 2008 that it would be difficult to win"
Security Council seats will be filled by way of secret ballot and member states will cast their vote on October 18.