SBS Radio News
US praises Georgia's 'historic' elections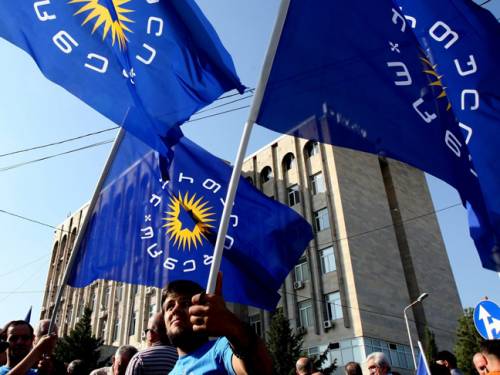 The United States has congratulated Georgia on its successful parliamentary elections, which have seen President Mikheil Saakashvili conceded defeat to a billionaire tycoon.
Georgian President Mikheil Saakashvili conceded a surprise defeat to a billionaire tycoon in the parliamentary polls, ending nine years of dominance that antagonized Russia and brought Tbilisi closer to the West.

"The United States congratulates the people of Georgia for the successful completion of yesterday's parliamentary elections," White House spokesman Jay Carney said, in a statement.

"Georgian citizens have set a regional and global example by conducting a competitive campaign, freely exercising their democratic rights, and affirming their commitment to undertake a peaceful transfer of power."

"While the final tabulation and appeals are still ongoing, these elections mark a significant step in the consolidation of Georgian democracy The United States stands with all Georgians in welcoming these historic elections."

Although Saakashvili remains president, the defeat of his United National Movement by Bidzina Ivanishvili's Georgian Dream coalition in Monday vote means he will lose control of parliament and the government.

His acceptance of the unexpected defeat marks one of the first times in Georgia or any ex-Soviet state, excluding the Baltic countries, have seen a peaceful transfer of power since the fall of the USSR.

The White House noted that local and international monitors had ensured a transparent electoral process and said President Barack Obama looked forward to stepping up US cooperation with Georgia.

Saakashvili's party, which controlled 119 of the 150 seats in the outgoing parliament, had dominated Georgia since the 2003 Rose Revolution ousted the country's former leader, ex-Soviet foreign minister Eduard Shevardnadze.

Saakashvili set Georgia on a staunchly pro-Western path with the aims of NATO membership and escaping the influence of Russia, with which Georgia fought a brief war in 2008.

That five-day conflict between Moscow and Tbilisi over the rebel regions of South Ossetia and Abkhazia saw a sharp increase in US monetary aid to Georgia.

Russian forces still occupy South Ossetia and Abkhazia and Moscow recognized them as independent after the war, a move condemned by Georgia's Western allies and only followed by a handful of other states.

The United States may have backed Saakashvili -- who studied and worked in Washington and New York in the 1990s -- in the conflict with Russia, but it had also expressed frustration at the slow pace of his democratic reforms.

US Secretary of State Hillary Clinton announced plans during a visit to Georgia in June to help it improve its defenses with helicopter upgrades and military training programs.

Russia refuses to deal with Saakashvili, whose second and final five-year term will come to an end next year after October presidential elections.