SBS Radio News
Fired-up Ioane aims to make Pumas pay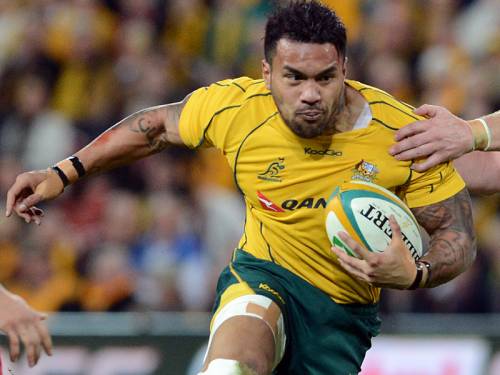 Digby Ioane still remains bitterly upset at his lack of impact against South Africa in one of the quietest matches of his 30-Test career.
Digby Ioane is bristling and, if his badly-bruised knee allows it, the Wallabies most destructive ball-runner is primed to make Argentina pay for Australia's woes.
Four days later, Ioane still remains bitterly upset at his lack of impact against South Africa in one of the most forgettable matches of his 30-Test career.
Man-of-the-match in the Wallabies 23-19 comeback win over the Pumas three weeks ago, he admitted himself he was largely a passenger in the 31-8 loss in Pretoria following an early head knock.
Australia sorely missed their strike weapon's ball-running power, which regularly dents the defensive line, as they were overpowered by the rampant Boks.
"For me I'm still hurting from the game," Ioane said. "I think a lot of the guys are - from the result.
"I got knocked out in the first half and tried to keep playing and that really rattled me in that second half.
"As a player I know I can offer more but I really can't get over my performance on the weekend."
The dazed winger chose to stay on the field due to injuries to Berrick Barnes and Adam Ashley-Cooper but was finally replaced in the second half after colliding knees with a forward.
"I couldn't do the things I normally do with the ball," he said.
"After I got knocked it takes a lot out of you and I learned you can't continue and try to be a hero.
"I just want to refocus and do my best this week."
Coach Robbie Deans needs Ioane to be at his best against a Pumas outfit desperate for victory at Rosario's Estadio Gigante de Arroyito but he's the one player who remains in most doubt for the last match of the tournament.
Ioane was rested from Tuesday afternoon's training session and will have ongoing fitness tests before the Wallabies side is announced on Thursday afternoon (Friday night AEST).
Uncapped Western Force stalwart Nick Cummins trained in his place, running on the right wing, prompting Dom Shipperley to move to Ioane's left side.
The damaging loss of the world-class winger would mean the Wallabies would line up in Rosario missing 13 players who would make their best 22-man line-up.
Ioane isn't just seething about his own game in Pretoria, he's also upset at the media's treatment of the Wallabies, who have dropped to No.3 on the world rankings.
"That's what you get mate. You lose games, people talk. You win games, people still talk. So you get it both ways," he said.
"Can you write that down."
He disagreed with teammate and close friend Quade Cooper's view there was a toxic Wallabies environment and stressed the team was tight-knit.
"I was surprised I guess but that's Quade and his situation," Ioane said. "It's a bit crazy but that's his business. I've got nothing to say about him.
"It's a really good spirit ... everyone has been tight and everyone is enjoying everyone's company but we just have to deliver on game day."