SBS Radio News
Irish eyes weep at Jill Meagher memorial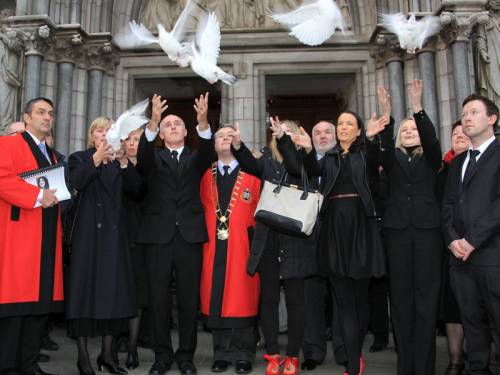 Jill Meagher's aunt said her late niece would remain "forever young" as she was farewelled at a memorial service in Ireland.
Still reeling from her death on the other side of the world, there were a lot of tears but little room at Jill Meagher's memorial service in her hometown in Ireland.
The Irishwoman who has touched the hearts of so many in Australia and Ireland was farewelled in a moving public ceremony at the grand St Peter's Church in Drogheda, the scene of her baptism and wedding.
There was standing room only with more than 1000 people attending the evening service on a cool, clear night just under an hour's drive north of Dublin.
Ms Meagher's aunt, Catherine McKeon-Halpin, told the congregation that the enormous support from Australia and Ireland had helped her family deal in the difficult days since her death.
"This was cut short by a despicable act one Friday night that has left us all numb," she said.
"To our friends and the people of Drogheda and Australia, especially Brunswick who marched in their thousands, you gave our family and me the courage to get through these past few weeks ... our sincere thanks."
Ms McKeon-Halpin said the family had lost a "bright light".
"Jillian will remain forever young and will remain forever in our hearts," she said.
Even her stoic uncle, Michael McKeon, who has handled countless media requests since his niece's passing, was overcome following the service.
He broke down on the steps of the church under the bright lights of the television cameras.
The service started with a sombre procession from the 13th Century St Laurence Gate tower with six white pigeons released by close family and friends on the steps of the church.
Ms Meagher, an ABC radio employee, disappeared a fortnight ago walking a short distance home in the early hours of September 22 in the inner Melbourne suburb of Brunswick.
Her body was found six days later in a shallow grave about 50km away and a man has been charged with her rape and murder.
Ms Meagher was remembered fondly for her poetry and friendly nature.
"From Melbourne to Drogheda, from Dublin to Perth, from Boyle in Roscommon to Brisbane in Australia and around the world, all of us have been touched by Jillian Meagher's tragic passing," said Father Oliver Devine, who conducted her wedding ceremony at the church four years ago.
Cardinal Sean Brady said she represented the "hope of a new generation of Irish people ... making a future for themselves abroad".
Ms Meagher's parents and brother wrote a note to the congregation in the service sheet.
"Looking ahead to that time when we can be with you again and play frisbee," said the note from Dad, Mum and Mike XXXXXXX.
Your Comments
Join the Discussion