SBS Radio News
One killed in French anti-terror sweep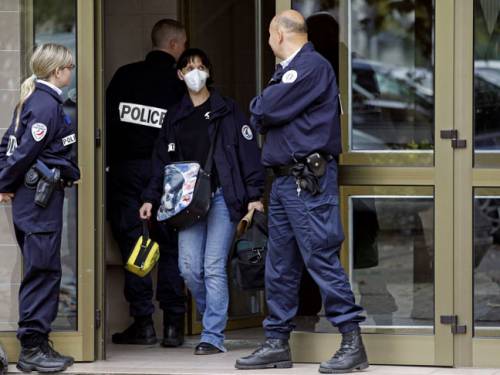 One suspect has been killed and seven others arrested as French anti-terrorism forces carried out raids across the country.
A man shot dead by French police in a nationwide crackdown on terror suspects that saw seven arrests was linked to an attack on a Jewish store last month, Paris prosecutor Francois Molins says.
The man killed in an exchange of fire in Strasbourg on Saturday was "a delinquent who had converted to radical Islam" and his fingerprints were found on the remains of a grenade thrown into the kosher grocery store in the Paris suburb of Sarcelles, Molins told a press conference.
Molins named him as Jeremy Sidney, 33, and said that like those arrested he was of French nationality and part of a jihadist cell.
He said the sweep had uncovered a list of Jewish associations, adding that "the inquiry will determine what were the next targets of this cell".
Strasbourg prosecutor Patrick Poirret for his part said Sidney was "very determined with probably the ambition to die a martyr, and had emptied the chamber" of his revolver at the police before being shot dead.
Prime Minister Jean-Marc Ayrault said earlier the sweep in a number of French cities was aimed at "dismantling terrorist networks".
"When it's a matter of fighting terrorism all means are applied to leave nothing aside," Ayrault said, adding that the "very serious, widespread operation" had effectively been launched "several weeks ago".
Interior Minister Manual Valls meanwhile called off a visit to a police security fair in Qatar in order to keep a close eye on events, after talks with President Francois Hollande, his ministry said.
Police sources said the crackdown was directed at a suspected Salafist network and linked to the September 19 attack which left one person injured and alarmed France's Jewish community.
Hollande stressed after the meeting with Valls "the full determination of the state to protect French people against all forms of terrorist threats", the presidential palace said.
The Elysee statement said the suspect in Strasbourg died as a result of return fire, without giving further details.
But a source close to the inquiry said Sidney was seated on a couch in his living room when the police entered and he fired several shots at them with a powerful handgun before he was killed.
Three police were slightly wounded, one being hit in the head and another in the chest, but they were protected by their helmets and bullet-proof waistcoats.
Molins said Sidney had been at the home of "one of his two religious wives", a woman of 22 with a girl of six and a one-month-old baby.
Police said another man arrested in the Paris suburbs was armed and "dangerous" but did not use his weapon.
Police swooped simultaneously in several cities, among them Cannes in the southeast, where a man was detained without offering resistance.
A source close to the inquiry, asked about the readiness of extremists to carry out other attacks against places frequented by Jews, advised caution.
But he said that the suspects had "a list of objectives" and the inquiry had to determine whether plans were well advanced or had simply been discussed among the suspects.
Investigators have declined to link the Sarcelles attack to the recent anti-Islam film Innocence of Muslims, which triggered global protests or the publication of cartoons of Prophet Mohammed by a satirical French weekly.