SBS Radio News
PNG asylum detention centre a step closer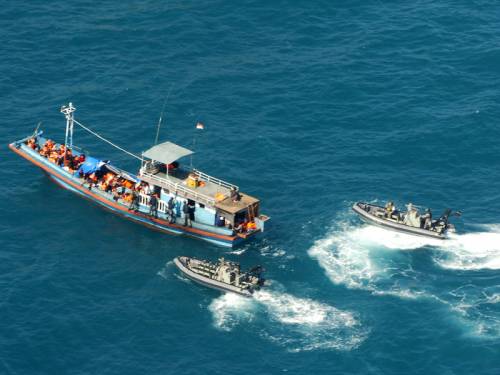 The federal government has moved a step close to re-opening the asylum seeker processing centre in PNG.
The first asylum seekers will be sent to Papua New Guinea within weeks after federal parliament established the country as a regional processing hub.
Immigration Minister Chris Bowen said it was another step forward in the campaign to stop people smugglers and insisted they were getting the message about its tough new regime.
The coalition supported the regulations after Mr Bowen introduced into parliament the documents necessary to re-open the Howard government-era facility on PNG's Manus Island.
But opposition immigration spokesman Scott Morrison didn't pass up an opportunity to remind Labor that having PNG as Australia's second offshore processing option was the opposition's idea in the first place.
"It's always been our policy," Mr Morrison said.
Mr Bowen said he hoped the first transfers would occur within weeks.
The government ultimately hopes to be able to send up to 600 asylum seekers to Manus Island, which the Rudd government closed in 2008.
The move comes as a group of 30 adult male asylum seekers was sent to Nauru.
The 17 Afghans and 13 Sri Lankans are the seventh group to be sent to the island since Labor resurrected offshore processing in August, bringing the total number to 211.
The Nauruan government said the transfer was "without incident".
Mr Bowen said he believed the government's new policies were starting to have an impact - even though close to 4000 asylum seekers have turned up on about 60 boats in the two months since Labor announced the policies.
"I think we are seeing our message cut through in the region," he said.
"We're in a battle of the truth with people smugglers, people smugglers out there saying 'don't worry about it, even if you get sent to Nauru, it'll only be for a short time'.
"And I think the people who've arrived in Australia have learnt that that's not the case and several of them have taken the decision to return to their country of origin."
Mr Morrison said if the government wanted to stop the boats it needed to go further and embrace other Howard government policies, including boat turn-arounds and temporary protection visas.
"They just don't believe it. They have been forced to this position by politics, not by a belief in the policies," he told parliament.
The Australians Greens have signalled they will move to restrict detention on PNG to no more than 12 months, but that bid will fail without Labor or coalition support.
Mr Bowen also continues to insist the government will send women and children to Nauru and PNG, but says facilities are currently not appropriate for them.
"We will be doing it at an appropriate time," he said.