SBS Radio News
Ex-US college coach jailed over abuse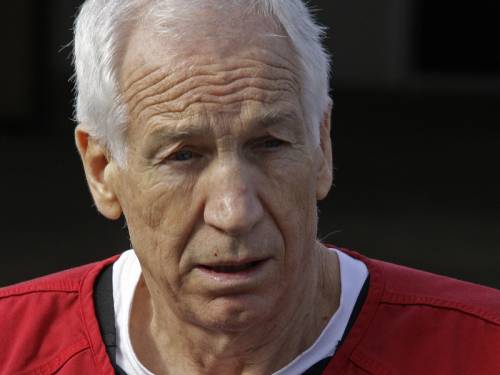 Jerry Sandusky - a 68-year-old ex-assistant football coach at a US college - has been jailed for 30 years after being found guilty of child sexual abuse.
A former assistant American football coach has been sentenced to at least 30 years in prison - effectively a life sentence - in the child sexual abuse scandal that brought shame to Penn State and led to coach Joe Paterno's downfall.
A defiant Jerry Sandusky gave a long, rambling statement in which he denied the allegations and talked about his life in prison and the pain of being away from his family.
The 68-year-old former Penn State assistant coach was found guilty in June of 45 counts of child sexual abuse, convicted of molesting 10 boys over a 15-year period.
Witnesses said Sandusky used the charitable organisation he founded for troubled children as his personal hunting ground to find and groom boys to become his victims.
The case, which tarnished the reputation of one of the most storied college football programs in the US and stunned a nation where college sports are revered, led to the firing of Paterno, the team's longtime head football coach, who died from lung cancer in January.
Sandusky's arrest 11 months ago, and the details that came out during his trial over the summer, transformed his public image from a college coach who had been widely admired for his work with The Second Mile charity into that of a reviled pervert who preyed on the very youngsters who sought his help.
Eight of the boys he was found guilty of molesting testified at his trial, describing a range of abuse that included fondling, oral sex and anal intercourse.
One of the prosecution's star witnesses, former graduate assistant Mike McQueary, testified that he saw Sandusky raping a boy in a locker room shower.
Among the three who spoke on Tuesday, a young man who said he was 11 when Sandusky groped him in a shower in 1998 said Sandusky is in denial and should "stop coming up with excuses."
"I've been left with deep painful wounds that you caused and had been buried in the garden of my heart for many years," he said.
Sandusky has consistently maintained his innocence and plans to appeal.
One element of the appeal is expected to be a claim that the defense did not have time to adequately prepare for trial. Sandusky was charged in November, following a lengthy investigation.