SBS Radio News
Sheens ready to quit after World Cup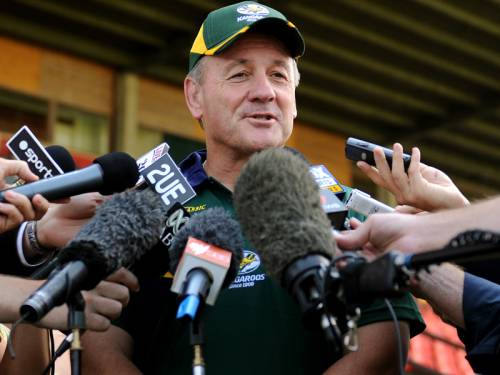 Kangaroos coach Tim Sheens says he'll stand down after the Rugby League World Cup, should the ARLC decide to renew his one-year contract in January.
Tim Sheens says he'll stand down as Australia coach after next year's Rugby League World Cup, provided the ARL Commission decide to extend his contract next January.
The 61-year-old has held the role since 2009 and is desperate to lead the Kangaroos in their quest to reclaim the trophy won by New Zealand in 2008 when Ricky Stuart's side slumped to a stunning 34-20 loss in the Brisbane final.
Sheens's men take on New Zealand in Townsville on Saturday and his future will be decided by John Grant and the ARL Commission early in the new year.
It would be a surprise if the four-time premiership winning coach, who's lost just one of 17 international games, wasn't kept on but he's taking nothing for granted.
"I am not saying I deserve anything," Sheens said on Friday.
"I've enjoyed what I am doing and if it finishes for me here then I am happy with what I've done. But I would be very keen to carry on."
However, the former Wests Tigers mentor, who was axed after 10 years at the NRL club last month, is happy to walk away after 2013.
"I would be thinking that. It would be a five-year cycle from the last World Cup and I sort of started with a view to that, although I didn't make it public," he said.
"The plan was to win back the trophies. We now hold the Four Nations after holding it then losing it.
"That isn't played again until after next year now so the main focus now is the world championship.
"My aim would be to there and then stand down after it."
Sheens was one of several coaches linked to the Warriors position before Matthew Elliott was appointed on Friday.
However, he denied that was ever in the frame for a move across the Tasman.
"I was never in for it and never particularly focused on it," he said.
"I have only been focused on this and sorting out my issues with the Tigers.
"I've always said, when this Test is over, that I would sit down with them and sort it out next week."
The Kiwis have a wretched record in one-off games against Australia and have not beaten the Kangaroos in such a format since 2003 when a Clinton Toopi hat-trick inspired a side coached by Daniel Anderson to a 30-16 win in Auckland.
Sheens's only defeat as coach came against Stephen Kearney's side in the 2010 Four Nations final and he has warned against writing them off.
"We've not lost one of these games for a while, but in saying that, we've never had a game where the Kiwis have just laid down," he said.
"You can never predict you are going to win, every Test so far against the Kiwis there have been turning points.
"Thankfully we have managed to win most of them, but it could so easily have gone the other way."