SBS Radio News
Murdoch survives shareholder backlash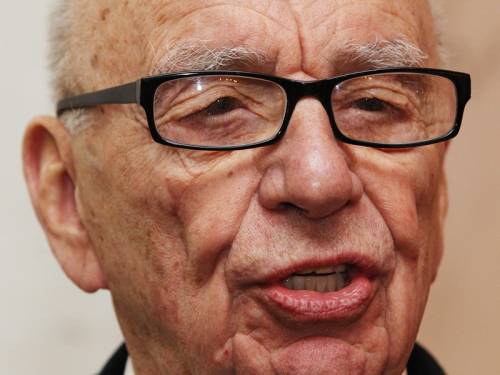 A defiant Rupert Murdoch has survived a second attempt by disgruntled shareholders to end his dual role as chairman and chief executive of News Corp.
Rupert Murdoch has survived a second shareholder push to oust him as News Corp's chairman, with the media mogul painting a rosy picture of the company's recent achievements and future under his guidance.
Compared to last year's annual meeting which raised many of the same shareholder issues, the 85-minute session in front of about 80 people, including investors, employees, scores of security personnel and the media, was a meek affair.
Pension funds and investment bodies from Great Britain, Europe, Australia and the United States had again banded together to end Mr Murdoch's dual role as chairman and chief executive and stop his sons James and Lachlan Murdoch from being re-elected to the media giant's board.
They also called for changes to management and the company's dual class stock structure that helps keep control of major issues in the hands of Murdoch.
However, all their resolutions were doomed before the meeting at the Daryl F Zanuck Theater on the Twentieth Century Fox studio lot in Los Angeles.
The Murdoch family owns about 13 per cent of the company but controls about 40 per cent of the eligible voting shares.
Even before company critics took the floor to state their case, a relaxed Mr Murdoch declared that preliminary voting results had defeated shareholder resolutions.
Nevertheless, campaigners took the opportunity to detail their criticisms of the company's structure and practices that have been in the spotlight since the exposure of phone hacking practices that resulted in the closure of British tabloid News of the World and led to James Murdoch stepping down as chairman of News International.
"We believe having a CEO serve as a chair represents a conflict of interest and is an impediment to a strong independent board whose primary job is to monitor management on behalf of all shareholders," Julie Tanner, assistant director of socially responsible investing at Christian Brothers, told the meeting.
"This reform is absolutely necessary at News Corp. The failure of internal controls has had real and lasting repercussion: it shuttered a newspaper, launched criminal investigations, cancelled the BSkyB acquisition, eroded public trust and tarnished the company's reputation."
But a defiant Mr Murdoch noted that while many international companies separate the chairman and chief executive roles, 70 per cent of leading US firms do not, noting "we are an American company operating much the greater part of our business in this country".
Huge American pension fund, the California State Teachers' Retirement System (Calstrs), also lodged a well supported request for extensive change to the News Corp board, including the exclusion of James Murdoch and his older brother Lachlan.
However, the News Corporation's 14 nominees for the board got the nod in the vote.
In sporting parlance, Mr Murdoch took a "take a look at the scoreboard" approach to ongoing criticism stemming from the UK phone hacking scandal, the poor performance of the company's news publications and repeated questions about News's transparency and corporate governance.
"Since addressing shareholders a year ago our stock price has risen about 45 per cent," he said, adding adjusted total segment operating income grew 13 per cent and adjusted earnings per share were up 19 per cent to $1.41 per share.
Mr Murdoch, declaring the company was undervalued, promised to unlock further shareholder value with News Corporation's plan to split into two separate publicly traded companies next year.
Even shareholders seeking to end Mr Murdoch's dual role as chairman and chief executive were moved to comment on the company's bounce back after last year's calamitous events.
"We want to thank you for making a rather lot of money so we can pay pensions to our beneficiaries," Ian Greenwood from Great Britain's Local Authority Pension Fund told Murdoch as he advocated the company introduce an independent chairman.