SBS Radio News
Twitter reaction to US debate: Round two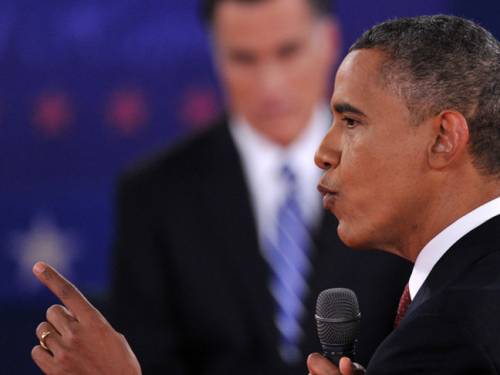 Some 7.2 million tweets were sent during the second US presidential election debates. So how did social media call the face-off?

Twitter announced halfway through the second presidential debate that it had already surpassed 3.5 million tweets, the number of tweets for the entire vice presidential debate last week.
The total number of tweets sent during the second presidential debate was 7.2 million.
Early tweets reflected Obama's renewed energy and Romney's maintained aggression, with both camps propelling #RealRomney and #ObamaDebateTips hashtags.
Tweets about Obama's debate performance leaned towards positive, with the early moments providing a stand-off between the two, yet negative when Obama interrupted Romney.
Later, his defensive stance over Osama Bin Laden's killing brought a steely Obama glare.
General consensus of moderator Candy Crowley's performance was positive, with some tweeters using Romney's initially direct manner with her as indication of his attitudes towards women.
"Go Candy" trended towards the end of the debate and her "live fact checking" of Governor Romney resonated with tweeters.
Romney's general aggression also seemed to reflect negative tweets, and Twitter seized on his comment that he received "binders full of women" from women's groups when he sought to recruit women.
In fact "binders-full-of-women" continued to trend well after the debate finished, with a tumblr dedicated to the meme popping up minutes after the debate had finished. And a Twitter account @RomneysBinder had more than 5,000 followers one hour after the debate ended.
Other hashtags trending in the US reflected tweeters criticisms of Romney, like "5 point plan" and "top 5 per cent" and "wind jobs".
"Big Bird and Planned Parenthood" trended again in the US, after the Democrats TV ad campaign that appeared featuring the Sesame Street character after the last first debate. Obama commented that Romney's plans for solving the deficit ammounted to eliminating Big Bird and planned parenthood.
On gun control, the twittersphere seized on Obama's mention of stoping "gangbangers", with the word trending within minutes.
All told, the twitter reaction to the second presidential debate has it for Obama, but Candy Crawford was a close second.