Top Stories
Heavy fighting in the besieged Syrian town of Qusayr as state forces launch a major offensive to recapture the rebel stronghold. Read more
SBS Radio News
Cambodia mourns death of former monarch
18 Oct 2012, 12:15 pm
-
Source: SBS Radio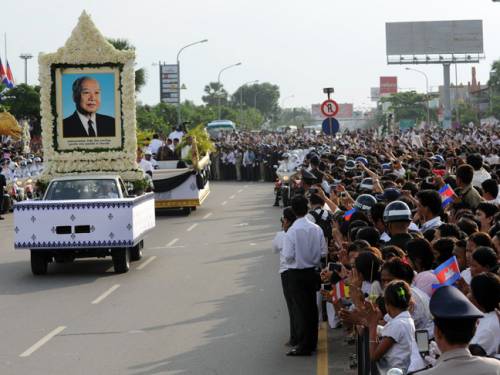 Cambodians are mourning the death of former king Norodom Sihanouk who died of a heart attack on Monday.


Listen: Cambodia farewells ex-king
Tens of thousands of Cambodians lined the streets of the capital, Phnom Penh, to pay their respects to the former monarch as his body arrived back in the country from Beijing.

Kay Kimsong, editor-in-chief of Phnom Penh Post Khmer spoke to Santilla Chingaipe about the scenes in the capital.
'It's the saddest for 14 million Cambodians. People and the government are together sharing sadness of losing the great king," he said.
The Cambodian government has announced a week of condolences during which all radio and television media must stop airing programs showing happiness.

The body of Sihanouk is being placed in the Royal Palace for three months before the funeral.

KImsong said there was an outpour of grief over Sihanouk's death because it was viewed as a major loss for Cambodian people.