SBS Radio News
PM congratulates DFAT staff in Canberra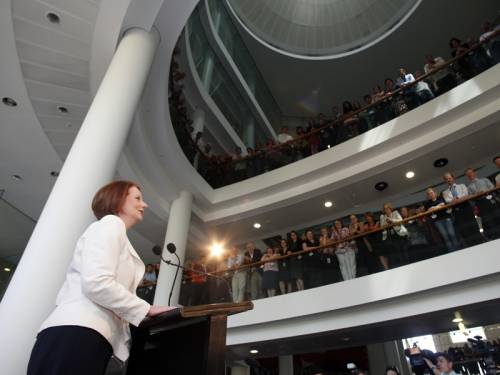 Prime Minister Julia Gillard has addressed staff at the Department of Foreign Affairs and Trade after Australia won a seat on the security council.
Prime Minister Julia Gillard has congratulated staff for Australia's UN security council seat win.
To cheers and applause, Ms Gillard addressed department staff and officials of foreign missions in the ground-floor foyer of the Department of Foreign Affairs and Trade in Canberra on Friday.
Former DFAT secretary Dennis Richardson, who left his job on Wednesday to become defence secretary, told his former colleagues: "Bewdy!"
Hundreds of people gathered to hear Ms Gillard thank DFAT staff and her predecessor Kevin Rudd, who launched Australia's bid for the UN Security Council in 2008.
"Firstly Kevin Rudd, for having the foresight as prime minister to put our name forward and commence the bid process and then to pursue it so energetically as minister for foreign affairs," Ms Gillard said.
She also thanked Defence Minister Stephen Smith, who was previously foreign minister, parliamentary secretary for foreign affairs Richard Marles, and Trade Minister Craig Emerson.
She said Dr Emerson spent years "sneaking in advocacy of our security council bid to discussions that were supposed to be about something else entirely".
Ms Gillard said she had spoken to Foreign Minister Bob Carr in New York and that he was "tremendously excited".
"I accused him of drinking apple martinis in a bar in New York," Ms Gillard said.
"Being Bob Carr, of course, he wasn't."
She also singled out several senior department staff, including the "amazing" Gary Quinlan, who led the bid team in New York.
The prime minister said the win reflected Australia's strong diplomacy and its high reputation around the world.
"I know in these days of budget restrictions that we're not at this point raising glasses of champagne," she said.
"But I hope at some point you do get the opportunity to raise a glass and to savour the moment because it really is about you and your efforts."