SBS Radio News
Thousands gather for official's funeral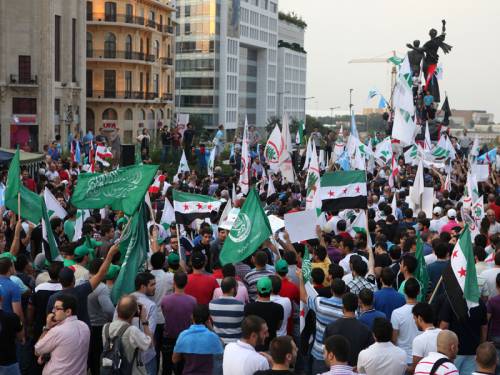 Lebanese soldiers set up road blocks and cordoned off Martyrs Square, where Brigadier General Wissam al-Hassan's coffin was to be brought for burial.
Thousands of Lebanese waving the national flag have packed a central square in downtown Beirut for the funeral of a top intelligence official assassinated in a car bombing many blame on the regime in neighbouring Syria.
Lebanese soldiers set up road blocks and cordoned off Martyrs Square, where Brigadier General Wissam al-Hassan's coffin, draped in a Lebanese flag, was to be brought for the Sunday burial.
Al-Hassan, 47, was a powerful opponent of Syria in Lebanon. He headed an investigation over the summer that led to the arrest of former Information Minister Michel Samaha, a Lebanese politician who was one of Syria's most loyal allies in Lebanon.
He was among eight people killed in the attack on Friday.
"He was killed while he was defending his country," said Samer al-Hirri, who travelled from northern Lebanon to attend the funeral.
Ahead of the burial, there was a memorial ceremony attended by government officials and al-Hassan's wife Anna, his two sons, Majd and Mazen, and his parents.
Even before Friday's bombing, the civil war in neighbouring Syria had set off violence in Lebanon and deepened tensions between supporters and opponents of President Bashar Assad's regime.
The attack heightened fears Lebanon could easily plunge back into cycles of sectarian violence and reprisal that have haunted it for decades.
France's foreign minister said it was likely Assad's government had a hand in the assassination. Laurent Fabius told Europe-1 radio that while it was not fully clear who was behind the attack, it was "probable" Syria played a role.
"Everything suggests that it's an extension of the Syrian tragedy," he said.
Dozens of anti-Syrian protesters erected eight tents near the Cabinet headquarters in central Beirut, saying they will stay until Prime Minister Najib Mikati's government, which is dominated by the Shi'ite militant group Hezbollah and its allies, resigns.
Hezbollah is Syria's most powerful ally in Lebanon, which for much of the past 30 years has lived under Syrian military and political domination.
"The Syrian regime started a war against us and we will fight this battle until the end," said protester Anthony Labaki, a 24-year-old physiotherapist and member of the right-wing Phalange Party.
He said the protesters will not leave the area until Mikati's government resigns and those behind al-Hassan's killing are uncovered.
Syria's hold on Lebanon began to slip in 2005, when former Prime Minister Rafik Hariri, an opponent of Syria, was assassinated in truck bomb along Beirut's Mediterranean waterfront.
Syria denied any role but broad public outrage in Lebanon expressed in massive street protests forced Damascus to withdraw its tens of thousands of troops from the country.
For years after the pullouts, there was a string of attacks on anti-Syrian figures in Lebanon without any trials for those responsible. Assad has managed to maintain his influence in Lebanon through Hezbollah and other allies.
Samaha, the former minister arrested in al-Hassan's investigation, remains in custody. He is accused of plotting a wave of attacks in Lebanon at Syria's behest.
Syrian Brigadier General Ali Mamlouk, one of Assad's most senior aides, was indicted in absentia in the August sweep that saw Samaha arrested.
Samaha's arrest was an embarrassing blow to Syria, which has long acted with impunity in Lebanon.
The car bombing struck Beirut's mainly Christian Achrafieh neighbourhood and also wounded dozens of people, including children.
Al-Hassan will be buried in Beirut's Martyrs Square next to the late Hariri.
Security was tight as thousands of people headed to the capital from around the country to attend the funeral.
Policemen and soldiers cordoned off the square, searching people trying to enter and barring vehicles. Giant posters of al-Hassan were set up around Beirut, calling him a "martyr of sovereignty and independence".