SBS Radio News
Little hope of Syria truce: Arab League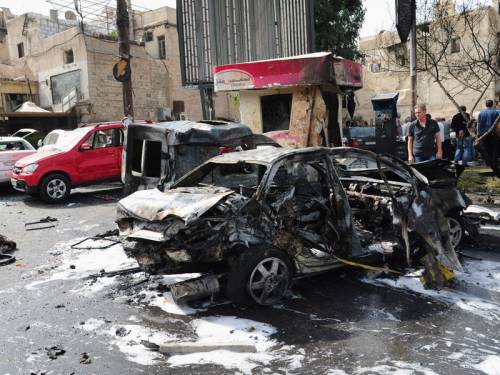 The Arab League says there's little chance of a truce in Syria as fighting continues to rage in Damascus and Aleppo.
Hopes of a truce being implemented in war-torn Syria during this week's Muslim Eid holidays are "slim", the Arab League says, as heavy fighting rocked Damascus and the northern city of Aleppo.
UN-Arab League peace envoy Lakhdar Brahimi had on Sunday indicated a favourable response to his appeal to both sides of the Syrian conflict to observe a truce during the four-day Eid al-Adha holiday, which begins on Friday.
But Arab League deputy secretary general Ahmed Ben Helli told AFP on Monday that there was little chance of such a truce coming into effect.
"Unfortunately, hope for implementing the truce during Eid al-Adha is slim so far," Ben Helli said on the sidelines of the World Energy Forum in Dubai.
"The signs, both on the ground and by the government ... do not point to the presence of any real will" to implement a ceasefire, he added.
Even as he was speaking, fierce fighting was raging in Damascus and Aleppo, Syria's commercial capital which has been battered by warfare between troops and rebels for the past three months.
The Syrian Observatory for Human Rights said clashes erupted on Monday morning when troops tried to storm the rebel-controlled town of Harasta on the northeastern outskirts of Damascus.
At least eight civilians and eight rebels were killed in fighting and shelling there on Sunday, the Britain-based Observatory said.
In Aleppo, clashes raged in the southwest rebel district of Salaheddin, Izaa in the north and the Old City in the centre.
The Observatory said that on Sunday alone, 173 people were killed nationwide, adding to a toll of more than 34,000 people it says have died since an anti-regime revolt erupted in March last year.
Brahimi, who has previously not held out much hope that the conflict can be solved through negotiations as it appears both sides are seeking a battlefield victory, said a truce during the four-day Eid al-Adha holiday could allow the start of a more permanent peace initiative.
"I appeal to everyone to take a unilateral decision to cease hostilities on the occasion of Eid al-Adha and that this truce be respected from today or tomorrow," he said in Damascus on Sunday.
"This is a call to every Syrian, on the street, in the village, fighting in the regular army and its opponents, for them to take a unilateral decision to stop hostilities."
Brahimi said he had contacted political opposition leaders inside and outside Syria and armed groups in the country. "We found them to be very favourable" to the idea of a truce, he said.
"We will return to Syria after Eid and if calm really takes hold during the feast, we will continue to work" on ending the conflict, he added.
President Bashar al-Assad, during a meeting with Brahimi, said he was "open to any sincere efforts seeking to find a political solution to the crisis based on respecting Syria's sovereignty and rejecting any foreign interference", state media reported.
Brahimi has visited several countries with influence in the Syrian conflict over the past week, including Lebanon and Iran, warning that the violence could spread and set the entire region ablaze.
Such fears were compounded when a massive car bomb exploded on Friday in Beirut, killing three people including a senior police intelligence chief linked to the anti-Damascus camp in Lebanon, General Wissam al-Hassan.
Lebanon, which was under Syrian military and political domination for 30 years until 2005, has been divided over the conflict in Syria and has experienced violence between supporters and opponents of the Assad regime.
Although Syria joined international condemnation of the Beirut killings, Damascus has emerged as the prime suspect in al-Hassan's assassination.
After Sunday's Beirut funeral, Lebanese police tear-gassed demonstrators trying to storm the offices of Prime Minister Najib Mikati and demand his resignation over the killing.
During the night, deadly violence hit the Lebanese city of Tripoli and several people were wounded in Beirut on Monday, security officials said.