SBS Radio News
Families flee clashes in Libya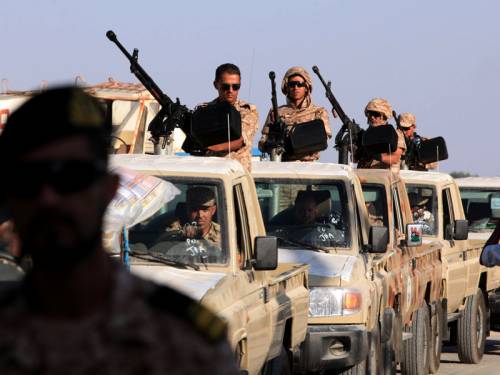 Libyan families are fleeing from days of fighting in Bani Walid, one of the last bastions of Muammar Gaddafi's regime.
Hundreds of Libyan families and foreign workers have fled from Bani Walid, one of the last bastions of Muammar Gaddafi's regime and scene of deadly clashes.
An AFP photographer on Sunday saw dozens of cars crammed with families pouring out of Bani Walid, a hilltop town of about 100,000 inhabitants located 185 kilometres southeast of Tripoli.
Dozens of foreign workers, many of them Egyptian citizens, fled on foot in the direction of Tripoli and military vehicles shuttled back and forth to pick them up.
Clashes on Saturday between pro-government forces and fighters described by authorities as criminals and loyalists of Gaddafi's ousted regime killed at least 26 people and wounded more than 200, according to an AFP tally.
On Sunday, the crackle of gunfire and sporadic blasts could be heard just three kilometres from the main entrance to the town, the photographer said.
Colonel Salah al-Borki, who heads a brigade of former rebels on the western front, told AFP his forces were advancing on the town and had seized a checkpoint leading to it.
"We are dealing with some pockets of resistance, particularly snipers posted on rooftops," he said, adding that two of his men had been wounded.
"We are trying to create safe corridors to allow civilians to leave the city so we can have more room to manoeuvre," said Borki, adding that his troops had "so far only used light weapons to spare the lives of civilians."
But Bani Walid's military commander Salem al-Waer reported "clashes on all fronts" and accused the assailants of "shelling the town with long-range weapons and even targeting the hospital".
"They are pushing Libya towards civil war. Libya will become a second Somalia. Why are they pitting tribes against each other?" he asked.
Bani Walid is the heartland of the powerful Warfalla tribe, which was once a pillar of Gaddafi's regime, although some of its members tried to stage a coup in 1993.
"We will resist until the last drop of blood. Either we live with dignity or we die defending our land. Even women took part in yesterday's fighting," said the commander by telephone.
In Tripoli, dozens of Bani Walid natives rallied to the national assembly to protest at the assault on their hometown and the reports on the presence of ex-regime members cited to justify it, witnesses said.
Guards shot in the air to stop the crowd, which had passed the outside gates, from entering the building, they added.
Saturday's clashes, the latest of several rounds of fighting around Bani Walid, marked exactly one year since Gaddafi was captured and killed on October 20, 2011.
At least 12 people were killed in shelling and clashes around Bani Walid in previous days, sources in the two camps said.
National assembly president Mohammed Megaryef, warning that not all of Libya has been "liberated", has described Bani Walid as a "sanctuary" of outlaws and diehard former regime loyalists.
Many Libyans are persuaded that heavyweight figures of the previous regime, including Gaddafi's son Khamis, took shelter in Bani Walid after the end of the 2011 conflict.
And the new Libyan authorities on Saturday sparked confusion by issuing conflicting statements on whether Khamis and Gaddafi's spokesman Mussa Ibrahim had been arrested.