SBS Radio News
More than 100 hurt in Kuwait protest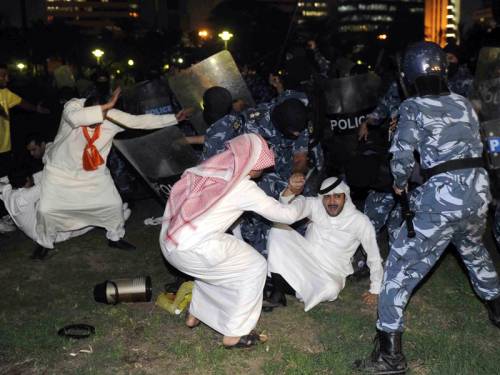 More than 100 protesters and 11 police have been injured in Kuwait after tens of thousands took to the streets against changes to the electoral law.
Around 100 protesters and 11 policemen have been hurt in clashes between Kuwaiti riot police and tens of thousands of demonstrators.
"The number of wounded protesters in hospital has exceeded 100 after riot police attacked them," director of the Kuwait Society for Human Rights Mohammad al-Humaidi said on Twitter on Sunday.
The interior ministry said in a statement 11 policemen were wounded after protesters threw rocks on them. It said police acted only after protesters became violent.
Former opposition MP Abdullah al-Barghash told AFP he saw injured men being taken to hospital in ambulances.
Dozens of protesters were arrested, including former Islamist MP Waleed al-Tabtabai.
Barghash and other activists put the number of protesters at more than 100,000, but independent onlookers estimated the crowd at more than 30,000. Police made no estimate.
"The way demonstrators were dealt with is unprecedented in Kuwait," Barghash said as he led several hundred protesters, some wearing orange straps to signify their call for change.
Former Islamist MP Jamaan al-Harbash declared a victory for the people and a defeat for the regime and "these protests will not stop until the nation restores its dignity".
The opposition called the demonstration to protest against a decision by Emir Sheikh Sabah al-Ahmad al-Sabah to amend the electoral law. Activists claim the change is aimed at electing a rubber-stamp parliament.
"The people want to abolish the decree," chanted the protesters marching in the street.
The demonstrators were due to march on the Seif Palace which houses offices for the emir, crown prince and prime minister, but were prevented by police.
"It looks like a battlefield," Mohammad Rashed, a private sector employee, told AFP as he left the scene, accompanied by his wife and other relatives.
As the clashes took place, the emir received members of the Al-Sabah ruling family, in power for more than 250 years, who reiterated their loyalty to him, official news agency KUNA reported.
The opposition, which has decided to boycott polls called for December 1, said amending the electoral law amounted to a coup against the constitution.
In the latest clampdown on opposition leaders and activists, the public prosecution service issued an arrest warrant for a member of the scrapped 2012 parliament, Osama al-Munawer.
Munawer joins three former opposition MPs who have been in detention since Thursday. The prosecution on Sunday extended their detention by 10 days, according to Al-Humaidi al-Subaie, one of their defence lawyers.
Political tension has strongly impacted the Kuwait Stock Exchange which shed 3.05 per cent at the start of the business week on Sunday, the biggest single day loss in more than three years.