SBS Radio News
Abbott says sorry for child comment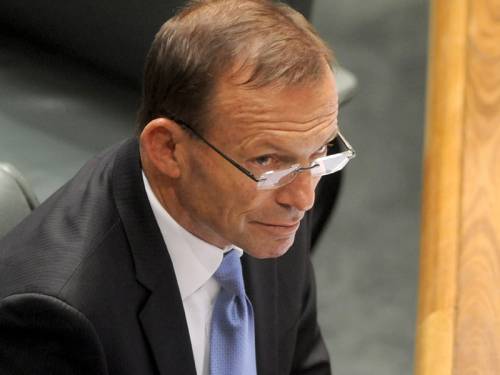 Opposition Leader Tony Abbott says he's sorry if he offended the prime minister by saying her government is inexperienced with children.
Opposition Leader Tony Abbott has said sorry to Prime Minister Julia Gillard after rekindling the federal sexism debate by suggesting her government lacks experience in the needs of young children.
Mr Abbott on Tuesday was responding to Labor's plan to cut the baby bonus paid to parents by $2000 for the second and subsequent child to make up gaps in its budget.
His quip was interpreted by Labor MPs as a potential reference to the prime minister's childless status, particularly after NSW Liberal senator Bill Heffernan in 2007 described her as "deliberately barren".
Sexism in federal politics has become a hot-button issue since Ms Gillard's speech to parliament earlier this month when she castigated Mr Abbott for lecturing her about misogyny and sexism and accused him of double standards.
Treasurer Wayne Swan on Monday announced the baby bonus would be cut to $3000 from $5000 from mid-2013. He justified the decision by saying that "after the first child you've already bought the cot, the pram and the other items that you can use again".
But Mr Abbott on Tuesday said this was not right because often one child is still in the cot when the second one comes along "so you actually need to get an extra cot".
"If the government was a bit more experienced in this area they wouldn't come out with glib lines like that," he told Seven Network.
Ms Gillard said Mr Abbott could explain what he meant by "that line".
Later, Mr Abbott told Fairfax radio he was talking about his own experience as a father - not the prime minister's.
"If she wants to take offence of course I'm sorry about that. And if she would like me to say sorry, I'm sorry," Mr Abbott said.
Mr Abbott said he was criticising the government's record.
"I think a lot of people are very ready to read far too much into entirely innocent comments."
Shadow treasurer Joe Hockey, who has three children under five, said Labor was being pathetic.
"Anyone who had been through that experience would know that you have to have two cots, you have to have a double pram," he said.
The opposition is now considering whether to block or support the baby bonus changes in parliament, but Mr Abbott said "there isn't any credible public-policy justification for it".
Ms Gillard argued the government understood families' struggles which is why it was providing the School Kids Bonus and other family benefit measures, which the coalition would axe if elected.
Labor backbencher Stephen Jones said Mr Abbott's comment was part of a deliberate strategy.
"He says his views on women have changed, yet finds every opportunity to play with prejudice," Mr Jones said in a statement.