SBS Radio News
Syrian rebels take Aleppo Kurdish area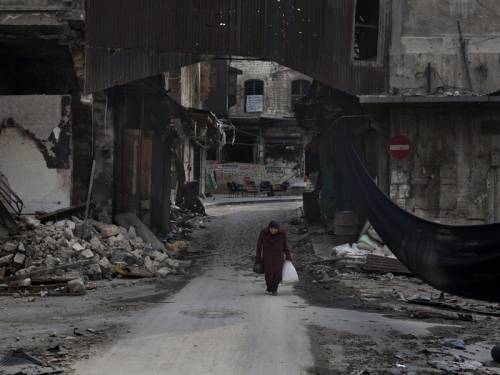 Observers are waiting to see if Syrian President Bashar al-Assad's regime will accept the proposal for a ceasefire during the Muslim feast of Eid al-Adha.
Syrian rebel forces have taken over a strategically important Kurdish neighbourhood in Aleppo and seized a military post in the country's northeast.
As observers waited on Thursday to see if President Bashar al-Assad's regime will accept the proposal for a ceasefire during the Muslim feast of Eid al-Adha, residents in Aleppo's northern Ashrafiyeh district told AFP about 200 rebels had moved into the area for the first time.
"I saw armed men enter my street with Dushka (heavy machine-guns) mounted on their vehicles, where it was written 'Liwa al-Tawhid'," a 28-year-old resident told AFP, referring to the main unit of the Free Syrian Army (FSA) in the embattled city.
"Snipers have set up in the buildings and 50 armed men, dressed in black and wearing headbands with Islamic slogans, entered a school near me. I heard them tell the residents 'We are here to spend Eid with you'.
"I am waiting for things to calm down before leaving."
Eid al-Adha begins on Friday and United Nations-Arab League peace envoy Lakhdar Brahimi has said the government in Damascus is ready to follow his call for a ceasefire during the four-day holiday.
The regime has said it will confirm on Thursday whether it accepts the truce, while the main rebel forces say they will cease fire only if Assad's troops do so first.
Northern Aleppo's neighbouring Kurdish districts of Ashrafiyeh and Sheikh Maqsud have been controlled by local militia and the move marked the first time either rebel or government forces had moved into the area.
Ashrafiyeh is strategically important as it sits on city heights and is a route between the central and northern parts of the country's commercial capital, which has been the theatre of intense fighting between rebels and government troops since mid-July.
In the northeastern province of Raqa, rebels also took control of a military post in a dawn raid, killing three soldiers and seizing arms including a tank, according to the Syrian Observatory for Human Rights. The post had been besieged for several days.
The Britain-based watchdog also said Syrian forces had bombed the Damascus suburb of Harasta and that fighting was taking place in the capital's southern areas of Tadamun and Qadam.
On Wednesday, fighting in the country killed 199 people, including at least 89 civilians, the Observatory said.