Top Stories

Foreign Minister Bob Carr says a four-year court case involving two Australian businessmen in Dubai has taken an "indefensible amount of time". Read more
SBS Radio News
Prince Charles an AFL 'work in progress'
25 Oct 2012, 5:15 pm
-
Source: AAP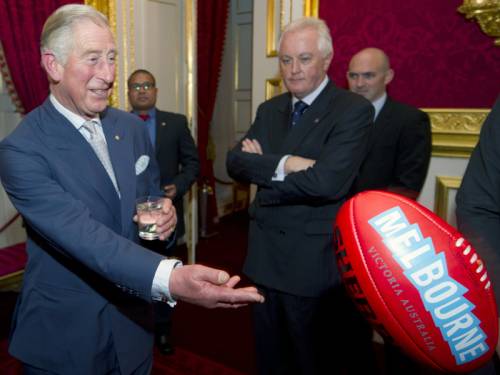 Footy-loving Prince Charles has received a gift from the AFL ahead of his trip to Australia with wife Camilla.
Prince Charles claims to be a big fan of AFL, but his hand pass could use some work.
The heir to the British throne received a Sherrin football on Wednesday evening as a gift, ahead of a trip Down Under with his wife Camilla.
Among 150 special guests invited to a reception at St James's Palace in London was former Hawthorn player-turned AFL international development officer Tony Woods.
"The least we could do was present him with a footy," Woods told AAP after passing the gift to a pleased-looking Prince.
After holding the ball for a short while, Charles made an attempted handpass of the gift to an aide so he could continue to meet and greet guests.
The clumsy manoeuvre didn't do much to boost the royal's sporting image.
"The ball looked natural in his hands. In his heyday he might have played centre for the Hawks," Woods quipped.
But when it comes to technique?
"Let's say he's a work in progress."
An exhibition match will be played between the Western Bulldogs and Port Adelaide at London's Kia Oval on November 3.
But the prince won't be there - that is the first day of Charles and Camilla's two-week tour taking in Papua New Guinea, Australia and New Zealand.
"It's a shame he won't be around to attend, but he said he greatly admires the game and that it is tough and hard and we are all crazy for taking it on," Woods said.