SBS Radio News
Malala's family join her in Britain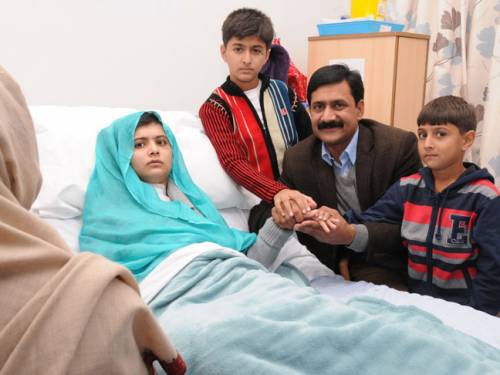 The immediate family of Malala Yousafzai, the Pakistani girl shot by the Taliban, has visited her in hospital in Britain as her health continues to improve.
The family of Pakistani schoolgirl Malala Yousafzai, who was shot in the head by the Taliban, have visited her in hospital after arriving in Britain, a spokeswoman says.
The 15-year-old's mother, father and two brothers arrived in the city of Birmingham in central England on Thursday and went straight to see her at the Queen Elizabeth Hospital.
"Her mum, dad and her two brothers are here in the UK," a spokeswoman for the hospital told AFP on Friday.
"They visited last night."
After flying into Britain's second city, they were given a police escort through Birmingham to the hospital.
In an attack which outraged the world, Malala was shot on a school bus in the former Taliban stronghold of Pakistan's Swat valley on October 9 as a punishment for campaigning for the right of girls to an education.
On October 15 she was flown from Pakistan to Birmingham in a medically-induced coma, and taken to the highly specialised hospital where staff have extensive experience of treating British soldiers seriously wounded in Afghanistan.
The hospital said Malala was still comfortable and continued to respond well to treatment.
She has received thousands of goodwill messages from around the world since she was attacked.
The bullet, which grazed her brain and came within centimetres of killing her, travelled through her head and neck before lodging in her left shoulder.
It will take weeks to months for Malala to defeat an infection in the bullet track and recover her strength enough to face surgery.
Her skull will need reconstructing either by reinserting bone or using a titanium plate.
While she was being treated in the UK, her parents and two younger brothers had remained in the Pakistani capital, Islamabad, under government protection. They met Interior Minister Rehman Malik on Thursday before flying to Birmingham.
The girl's father, Ziauddin Yousafzai, dismissed news reports that his family was placed under house arrest over fears they might seek asylum in Britain.
"I feel (like) laughing at these rumours," he told Pakistan Television in his first televised public statement since his daughter was attacked in the northwestern district of Swat on October 9.
"We were kept here like royal guests and routinely allowed meetings with close relatives but we could not meet many because of security risks."
The Taliban have threatened to again attack the teen, this time killing her, for criticising them and promoting what they claim are Western views.
Malik saluted Yousafzai for her continued struggle to promote education for girls, saying she asked her father to bring her textbooks.
"When Malala will return after recovery, I will ensure that 100 per cent security is provided to her to avoid any incident."
Pakistani authorities have identified Taliban sympathiser Attaullah Khan, 23, as the main suspect behind the shooting as Yousafzai travelled in an open-backed school van with several pupils, two of who were also wounded.
Khan allegedly planned the attack after a meeting with the former Swat Taliban leader Maulvi Fazullah in Afghanistan, the Express Tribune newspaper reported on Friday, quoting unnamed officials.
Islamabad has repeatedly alleged that Fazullah is hiding in the Afghan provinces of Kunar and Nuristan after fleeing a 2009 offensive by Pakistani troops trying to wrest control of Swat and its neighbouring districts from the rebels.
Fazullah's rebels have been blamed for several recent cross-border strikes against government and civilian targets in Pakistan.