SBS Radio News
Top Qld bureaucrat accused of intimidation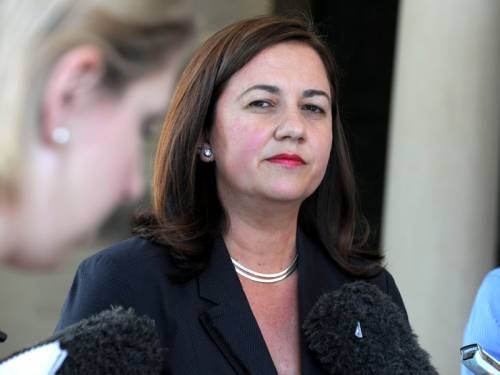 Queensland's opposition leader says a threatening letter sent on behalf of sidelined bureaucrat Michael Caltabiano is an attempt to intimidate her.
Queensland's opposition leader has accused lawyers for a senior bureaucrat of trying to intimidate her.
Annastacia Palaszczuk says a threatening letter sent by sidelined Transport Director-General Michael Caltabiano's lawyer should be referred to the parliamentary ethics committee for investigation.
She says the letter is a clear attempt by Mr Caltabiano and his lawyer Adrian Braithwaite to silence her over concerns the director-general had misled parliament over the nature of his relationship with the son of Arts Minister Ros Bates.
Mr Braithwaite's letter accuses Ms Palaszczuk of making misleading, untrue and calculated allegations against Mr Caltabiano in a letter of complaint she wrote to the Speaker.
"We are instructed to insist that you not repeat any such allegation or statements in any forum and further that you inform and instruct your colleagues otherwise," his letter says.
Ms Palaszczuk said she would not be intimidated.
"I will not be silenced as leader of the opposition. I will not be threatened or intimidated when seeking to keep this government accountable," she told state parliament on Tuesday.
"It is an affront to the parliament that a director-general of a government department should use his taxpayer-funded legal advisers to intimidate a member of parliament in the performance of their duties."
She said Mr Caltabiano was in contempt of parliament for sharing her letter to the Speaker with his lawyer.
Speaker Fiona Simpson is considering whether to refer the matter to the ethics committee.
Mr Caltabiano has stood aside from his role as the director-general of transport and main roads, pending an ethics committee investigation into his work history.
He is accused of misleading a budget estimates hearing about his relationship with Ms Bates' son, Ben Gommers, who landed a plum job in Mr Caltabiano's department.
Ms Bates has gone on sick leave and is not in parliament this week.
She has said she needs time off to recover from a shoulder operation and to care for Mr Gommers, who is being treated for depression.
The Crime and Misconduct Commission is investigating the appointment of Mr Gommers to a job in Mr Caltabiano's department.
The opposition also questioned Transport Minister Scott Emerson's links with other departmental liaison officers.
"Some I may have met personally previously. I didn't know any of them professionally," Mr Emerson replied.
Ms Palaszczuk went on to ask if the departmental officer in question is or was ever a tenant of Mr Emerson's rental property at St Lucia in Brisbane.
Mr Emerson denied that and accused Ms Palaszczuk of trying to smear him.
"Where do they get this stuff from? Do they see it on toilet walls?" he said.