SBS Radio News
Russia 'returns to Stalin-era show trials'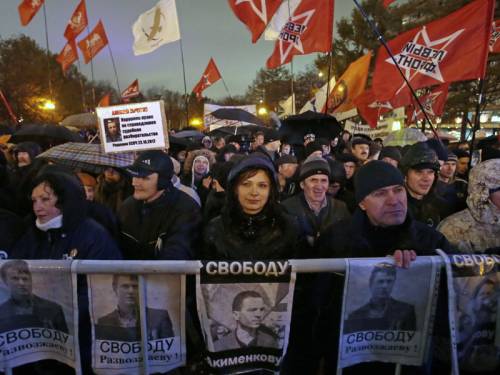 Stalin-era tactics including show trials and camp sentences are being employed by the Russian government, a prominent rights group says.
Russia's leaders are using Stalin-era tactics against the opposition, including show trials and camp sentences, one of its most authoritative rights groups has warned as hundreds of people protest in Moscow.
Rights group Memorial slammed the treatment of activists after two members of the Pussy Riot feminist punk rock group were sent to prison camps for a protest against President Vladimir Putin and several protest leaders were charged in criminal probes.
"The events of recent weeks show that in its dialogue with the opposition, the Russian authorities intend to rely on the language of repression - arrests, courts, camps," Memorial said.
Its statement came during annual events in Russia to remember the victims of political repression, including a reading outside the Lubyanka security service headquarters of the names of victims killed during purges under Josef Stalin's rule.
Braving freezing rain in the Russian capital, hundreds of people turned out in central Moscow in a protest to denounce the arrest and detention of activists under Putin's rule.
Police said 800 people were present, although protest leader Sergei Udaltsov, himself charged last week by the authorities for planning mass riots, said at least 2000 people turned up. There were no reports of arrests.
Several protesters held placards urging freedom for activist Leonid Razvozzhayev, who is being held in a Moscow prison and claims to have been kidnapped from Ukraine and then forced to confess a plot to stage mass riots.
Memorial said in its statement that "once again Russia is being pushed onto its usual and tragic path.
"Once again, as in the 1920s and 1930s, the experience of fabricating political show trials is in demand," it commented.
Russia's leaders seem to have no sense of history repeating itself, the rights group said.
"We are not addressing the historical responsibility of our government leaders. They are apparently lacking this feeling," it said.
Both Putin and his predecessor Dmitry Medvedev have spoken out against Stalin-era repression, but only sporadically, and Russia has resisted opening up its archives from the period.