SBS Radio News
Search for Indigenous place name meanings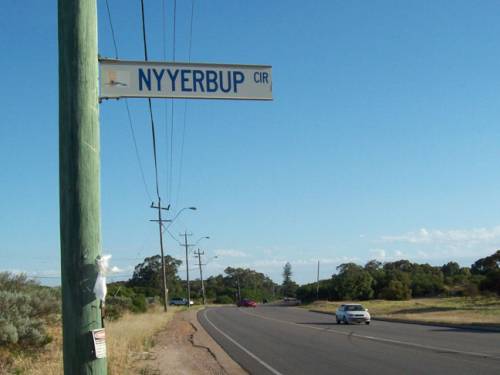 Searches are underway across Australia to find the real meaning of the many place names of Indigenous origin.

Listen: Search for Indigenous place name meanings
Parramatta, Cunnamulla, Maroochydore, Yowie, Umina, Pilbara, Tolga, Moe, Mudgee and Noosa.

There just some of the many place names in Australia of Indigenous origin.

Efforts are underway in various parts of Australia to try to uncover the true meaning of Indigenous place names.

Researchers hope the results will be used by both the government and the education sector.

Len Collard is a professor at the University of Western Australia in the School of Indigenous Studies.

He's embarking on a three-year project to develop a multi-media resource incorporating the meanings of Aboriginal place names in south-western Australia, hundreds of which come from the local Nyungar language.

Professor Collard says records held by the WA Department of Land and Administration and other public agencies are often incorrect or contain very little clarity.

But he says that doesn't mean the right information can't be found.

"One of the things about the south-west is that we're an isolated part of Australia. We were not taken up under the British colonial system until 1829 and one of the things that happened in the West was because it was so isolated, the colonial frontier so to speak was a place where there were many Nyungars and the colonials who lived here, whether they were administrators or government officials, or families that lived in the remote parts of South West Australia and other sort of people who were kind of interested to record details. They would record word lists and their meanings. Up until 1890 WA didn't have a lot of Europeans there, so one of the things was to collect word lists and then interpret them into English, was one of the roles that the government asked people to do and because they wanted to educate the newcomers in the language of the old Australians so to speak."

Len Collard says right across the south-west, government officials, individuals and colonial families were compiling these lists, creating a large database of words that exist to this day.

But the accuracy of their meaning has not always been so easy to determine.

The professor often has to break down place names, looking at the different meanings of each segment.

He uses the town of Balga to explain this process.

"What I did was they I went and I identified about 25 word lists from right across south-west Australia and I've got a database of about 10,000 plus words from right around the south-west corner of Western Australia and I used that as the primary basis to get some clarity about what the words are. The second part of that process, what I do is segmentise the words. In the case of Balga I broke it into two segments, the Bal and the gah and basically went through my database to look for bal for Balga in the other spellings, and the ga which is how I come up with the meaning of the words."

Professor Collard is hoping the results of his research will be used by government departments and education providers.

One easy use could be within schools many of which take on the Aboriginal place name of their local area.

The professor hopes an exploration of the meaning of the school's name could move into a broader discussion on Aboriginal history, culture and language.

Beyond this, there's scope for using the resource in mapping work and tourism.

Jaky Troy is a research director at the Australian Institute for Aboriginal and Torres Strait Islander Studies in Canberra.

She's also a councillor on the Geographical Names Board in NSW which has spent many years attempting to recover the original Aboriginal place names of towns, and other geographical features such as mountains, rivers and coves.

The process of recording the meaning of names can be complex.

"Rivers are interesting because with Aboriginal naming, it's not the whole waterway if you like that gets a name. It will be all the different little bends in the river and deep holes in the river. The river is deeply significant all the way along because different parts of it are known for being good fishing spots or there spots where dreamtime or where ancestral figures have had some contact with the landscape. The Murray River for example was believed to be made by a Murray River cod, also Torres Strait Islander people, who don't just name land features but also all the parts of the ocean. If you travel around the Torres Strait they can name every rise under the water, every little coral or rocky outcrop that might not even be sticking up outside the waters. And the same also for people in coastal areas around Australia. Some places like in Broome have huge kind tides, so it won't just be the coast where the water is at the highest tide point or the lowest tide point. All the area of the mudflat will have naming on it as well."

Jaky Troy says many Aboriginal and Torres Strait Islander communities around Australia still hold knowledge about place names, and it is sometimes backed up with written historical records.

She says much has been gained from original records where European surveyors were encouraged to document what they could about the Aboriginal presence in a particular area.

"The governors would say to surveyors, record the Aboriginal place name, wherever you can record the name of an area a place a mountain a river etc. They were very switched on. People were much more switched on to Aboriginal knowledge and Aboriginal understanding of the environment as you would be because in some cases you would be the only non-Aboriginal person in a very Aboriginal landscape populated all with Aboriginal people so you can imagine if you were a surveyor going through Aboriginal land , the people you would be encountering and talking to. Major Mitchell was a very famous surveyor who was able to make good relationships with Aboriginal people and collected a lot of information. So in the diaries and notebooks of these people and indeed on the first survey maps, these are the resources that Len and other people have relied to recover naming."

Paul Paton is the Executive Officer of the Victorian Aboriginal Corporation for Languages.

He thinks the Office of Geographic Names in Victoria has done well in developing guidelines in recent years for the recognition and use of Aboriginal place names.

Mr Paton also says it can be an intriguing process for those involved in research in this area to try and find how a geographical point and the original place name connect.

"There are suburbs that just simply mean possum or some have some more meanings that don't associate with the area. I think Toorak in Melbourne means mother's milk or something like that. So there are some odd ones there where you can't see what consideration was given when the place was named. Geelong - traditionally the name is jee-lung - that means tongue. There's usually a story associated with that. Place names have various different reasons why they may have been given traditionally. There's a story or a dreaming songline associated with it. In a colonial sense names may have been selected at random. It's really hard to the process that was undertaken that many years ago."