SBS Radio News
Australia pledges $100m to fight malaria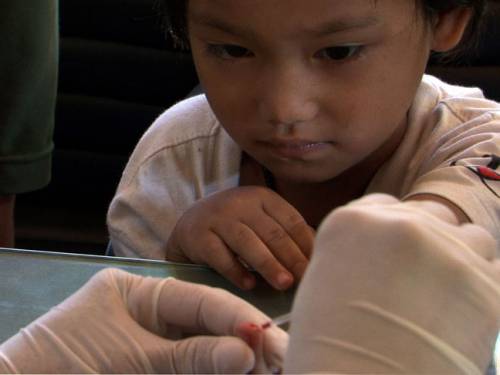 Foreign Minister Bob Carr has announced a $100 million funding commitment to fight malaria in the Asia-Pacific.
Australia has pledged $100 million over the next four years to fight malaria in the Asia-Pacific, part of a bid to save 70,000 lives by 2015.
The funding includes $14.5 million to combat drug-resistant malaria in the Greater Mekong region of Asia, which threatens to drastically increase the disease's annual global death toll of at least 650,000.
A further $20 million will go specifically to three Pacific nations most affected by malaria - the Solomon Islands, Vanuatu and Papua New Guinea.
Another $10 million has been earmarked for research under Australia's aid program.
The move was announced by Foreign Minister Bob Carr at a malaria conference in Sydney on Friday.
It's part of collaborative efforts to provide 276 million insecticide-treated mosquito nets, two billion rapid diagnostic tests and 47 million quality malaria drug treatments.
The Asia-Pacific is the second worst-hit part of the world, recording 30 million cases of malaria and 42,000 deaths in 2010.
Africa suffers the most, and experts at the conference have warned of a 25 per cent jump in mortality rates if drug-resistant malaria reaches the continent from Asia.
Drug resistance is caused by wrong treatments, patients not completing their treatments and the use of sub-standard and counterfeit drugs.
Ten Asia-Pacific countries among 30 nations attending the conference committed to "urgent" collective action to contain drug-resistant malaria.
They also committed to a goal of reducing malaria cases and deaths by 75 per cent by 2015.
"Taking these actions will save 70,000 lives by 2015, increase productivity of our workers, improve our tourism trade and stimulate national and regional economic growth," they said in a communique.
Global mortality rates have dropped by 20 per cent since 2000, but Senator Carr said drug-resistant malaria was the biggest single threat to the gains made.
AusAID director-general Peter Baxter said: "We know if it takes root in our part of the world it will spread with devastating effect."
United Nations special envoy for malaria Ray Chambers praised Australia's "magnificent and generous" financial commitment, saying it raised the bar for other nations.
He said the Asia-Pacific partnership would stand as a model for the rest of the world.