SBS Radio News
Rudd biographer urges him to support govt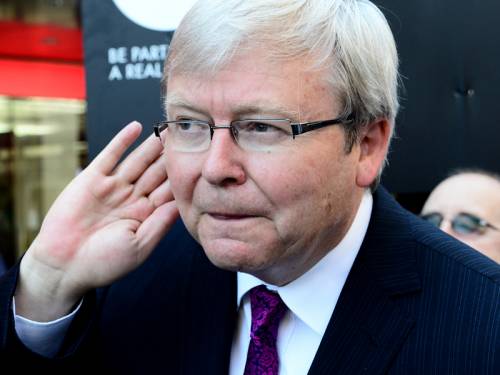 Kevin Rudd's biographer his written a scathing opening letter to the former PM asking him to swallow his pride and support the government.
Shadow Treasurer Joe Hockey has described a letter by Kevin Rudd's biographer as "pathetic behaviour" and says it's time to lay off the former prime minster.
Robert Macklin, author of Kevin Rudd: The Biography, has written a scathing letter to Mr Rudd, urging him to put aside his leadership ambitions.
He said Mr Rudd's claims that he didn't take things too personally were false and his "constant agitation" of the government had to stop.
The letter, published on ABC online, said Mr Rudd would ignore any "private appeals" that didn't pander to his "perception as the rightful prime minister of Australia".
"You think because you are popular now that you could retain the people's good graces back in the Lodge. It isn't true," Mr Macklin wrote.
"For the sake of the nation, the government and yourself, abandon the delusion that has claimed and tortured you since you were deposed."
Mr Hockey said it was time for people to "lay a bit off Kevin".
"After what the Labor party did to him, now his own biographer is having a shot," he told the Seven Network on Friday.
He also took a swipe at Mr Macklin for writing the open letter.
"You let someone into your life, they write about it and then they go and dump on you like this," he said.
"I mean it's pathetic behaviour.
"People have been too tough on Kevin and they need to lay off him."
Environment Minister Tony Burke said the leadership was a dead issue.
"Everyone has moved on," he said.
"... the best signal was when we won the security council bid and the first thing the prime minister did was to congratulate Kevin on the role he played.
"That's how it ought to be and for the long time it was wasn't like that."