SBS Radio News
Tensions high among Russian Muslim groups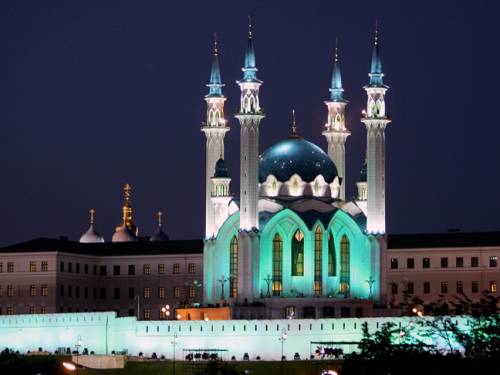 There are growing concerns around rising Muslim fundamentalism in Russia, with several violent incidents this year in the moderate heartland of Tatarstan indicating a looming clash between Muslim groups.
Following is a transcript from World News Australia Radio

There are growing concerns around rising Muslim fundamentalism in Russia.

Traditionally such worries have centred on the Caucasus region where militants have waged a long battle against the Russian government.
But now it's the moderate heartland of Tatarstan in the country's centre that is the focus - with several violent incidents this year indicating a looming clash between Muslim groups.

Listen: Karen Percy reports from the region's capital, Kazan.
Across the city of Kazan, there is the din of construction.

Drills and jackhammers, welders and concrete trucks go from dusk until dawn.

The race is on to finish facilities for the 2013 summer Universiade, when thousands of university students from across the world will take part in a 12 day sporting competition.

The event will showcase a city which has long been held up as a model for religious tolerance, where Muslims and Russian Orthodox Christians live side by side with little disagreement.

But cracks within the Muslim community are starting to show.

In July, a moderate imam was shot dead outside his home.

On the same day his deputy was injured in a car bomb.

The attacks are said to have been connected to their attempts to curtail radical teachings.

Rais Suleymanov is with the Russian Institute for Strategic Studies in Kazan.

"That's true, we see that in terrorist acts in Kazan. We see the appearance of the underground, we see bandits hiding in the forest, they are armed, they have killed a theologist, blew up the mufti's car and were preparing an act of terrorism for the Kubran Bairam religious festival. All this is proof that we have Islamic fundamentalists here.

During the Soviet era, when the state opposed religion, the Islam practised in Russia was steeped in cultural customs more than ideology or doctrine.

It's only been since the USSR disintegrated that Koranic teachings have been introduced in Kazan, says Rafik Mukhametshin, from the Russian Islamic university of Kazan.

"It's been going on for 20 years, since the early 1990s when Russia proclaimed itself a democracy - when freedoms of conscience and religion became real and Muslims in Russia announced their rights. We needed professional Islamic personnel who could do the job of explaining Islam to Russian Muslims and because there were no such people in Russia so Russian Muslims went to other countries to study Islam. When they came back after receiving their education, then we found a problem."

Most of the students were influenced by Wahhabi or Salafi streams of conservative Islam practised in Saudi Arabia and other Arab nations.

Foreign scholars, too, brought a stricter form of Islam to Russia.

Now there are bans on foreign teachings.

But Rais Suleymanov, from the Russian Institute for Strategic Studies, says the Russian government needs to go further.

"We need not only prohibit studying Islam in the Arab countries, we need to stop Arab money pouring into the region, which is called Islamic investments, Islamic economy, which sponsors Wahhabi ideas. It's Wahhabis paying for Wahhabi growth in Tatarstan."

While comparisons will inevitably be made with the troubles of the Caucusus, where Muslims have waged an armed struggle against Moscow for almost two decades, Rais Suleymanov says the aims are different in Tatarstan.

"In the Caucasus it's explained by poverty - the young people have no money, so off they go to the forests. Our region is wealthy, our people are well-to-do and we don't have lots of forests, so this is not a money issue. The explanation is this - there is no justice around so they think that if they built a Muslim caliphate or region it will be a just society."

Such a move is likely to be opposed by the Russian government which wants to see a softer version of Islam prevail.

But the Russian government itself is alienating some Muslims by supporting a ban on the wearing of the hijab in schools and opposing the construction of mosques in Moscow.

More recently, Russia's aggressive stance on the conflict in Syria has had an impact on Tatarstan, says Rais Suleymanov.

"That's true, there's a connection with Syria. Firstly we see Syrian hitmen who fight in Syria, Bashar al-Assad is pushing them out so they come here. They are trained, they are battle-experienced, they know how to operate firearms and make explosives, so they come here establishing their operations. Moreover local Wahabbis support Syrian Wahhabis who fight Bashar al-Assad."

Such comments are controversial in Russia.

While commentators disagree on the extent of the radicalisation, there is consensus that it is on the rise.

Rafik Mukhametshin from the Russian Islamic university of Kazan, again.

"Nobody is saying, 'Let's kill infidels'. It's all happening on theological level, on a level of a very subtle disagreements. But everyday disagreements grow in value and become more notable, so radicalisation is growing."