SBS Radio News
Gandhi: Education key to combating violence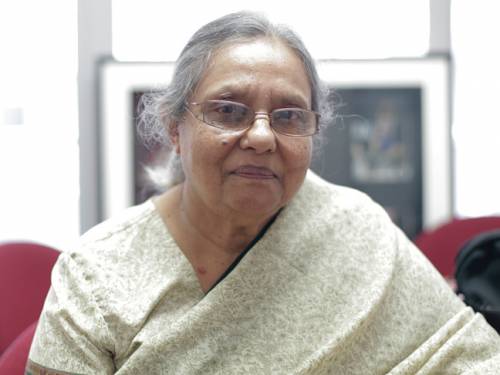 The granddaughter of Indian peace icon Mahatma Gandhi hopes a new institute in Sydney will help Australians re-think our approach to moral education.
Biwa Kwan speaks to Ela Gandhi.
The granddaughter of Mahatma Gandhi, Ela Gandhi, has opened an institute to promote non-violence in Sydney.

Sixty-five years after the death of the Indian independence leader, his granddaughter Ela Gandhi is taking up his cause to spread the message of non-violence.
Ms Gandhi, a former South African parliamentarian who has spent her career promoting civil rights, said she fears social justice teaching is losing traction.
"The basic issue that we face is that our present education system is geared towards providing skills and knowledge," she told an audience at the University of New South Wales on Tuesday.
She's visiting the country for the first time to set up an Australian branch for the South-Africa based International Centre for Non-Violence in Sydney.

Ms Gandhi is currently the vice chairperson of the International Centre of Non-violence in South Africa. The centre has been working for the past 43 years to educate children as young as three years old in non-violence.

She told SBS the values of non-violence need to be taught at schools and universities to help counter violence against women and children.

"Well the current [teaching] approach is producing highly skilled people in technology in sciences and so on in arts, in all the faculties. But the [education] system is not producing good human beings. It's not geared towards producing good human beings.

"So if you go to an education institution they tell you that our job is to impart knowledge and skills not to groom the individual to be a better person, to live in the community in a peaceful, non-violent way. This is how it is perceived right now. We want to change that perception because we believe - although in the past this task was mainly the task of the family - we have seen over the years the family structure has changed, both parents go to work, the influence has been less and less on the child."

Ela Gandhi says her grandfather's values are still relevant today, but admits there are challenges to overcome in adopting the non-violent approach.

"There are two ways of how people approach the non-violent kind of movement. One is that non-violence is a strategy, it is not a way of life. For Gandhiji it was a way of life. When you begin to accept that there's only one value that you have and that is non-violence, you're not going to depart from that. It's not a strategy, a one-time thing that I'm going to try out and when it fails I'll use some other means."