SBS Radio News
Surfing's top women reach quarter-finals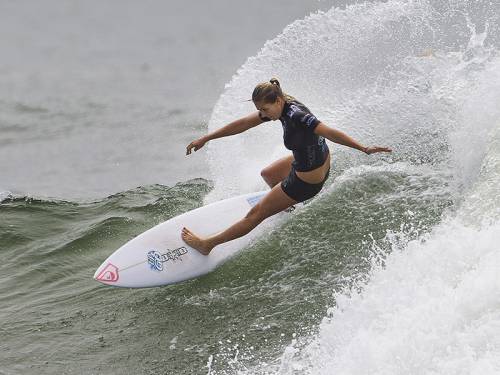 The big names of women's surfing have all reached the last eight of the Roxy Pro season opener on Queensland's Gold Coast.
It's a new year but the women's world surfing season-opener on the Gold Coast has a familiar look at the quarter-final stage.
Last year's top five female surfers have all reached the last eight at Rainbow Bay after rounds two, three and four were all completed in clean, one-metre waves on Monday.
Reigning world champion Stephanie Gilmore has looked comfortable on her home break and needed some of her best to beat Hawaiian pocket-rocket Coco Ho.
Her two-wave score of 17.96 out of 20 in the third round, including a near-perfect 9.73, showed the five-times world champion is in good form as she chases a win to begin her title defence.
"We haven't competed for a few months but I love doing this," Gilmore said.
"I always feel pretty fresh. It's just like going for a (recreational) surf.
"To start at home with your family, your friends, in your own bed, in your own house, it's a wonderful experience."
Gilmore takes on Alana Blanchard in the last eight after the Hawaiian went on to eliminate Ho in another close finish in the fourth round.
Joining Gilmore in the last eight will be fellow Australian Sally Fitzgibbons but the three-times world championship runner-up had a tougher route.
The 22-year-old from NSW was surprisingly upstaged by South African rookie Bianca Buitendag in their third-round heat, with Buitendag pulling out a 7.33 wave in the dying seconds to pinch the win.
That left Fitzgibbons to face a fourth-round eliminator against American Lakey Peterson and the Australian set-up a last-eight rematch with Buitendag by scoring 16.47 to Peterson's 12.80.
Another Australian, Tyler Wright, overcame an ankle injury to move into the quarters with victory in the third round and will meet American Courtney Conlogue.
The last quarter-final pits Hawaii's former world champion Carissa Moore, who posted a whopping 18.43 out of 20 in her third-round heat, against France's Pauline Ado.
Attention should switch to the men's season opener, the Quiksilver Pro, on Tuesday with the first round expected to be held if conditions hold.