SBS Radio News
Mills survives as NT leader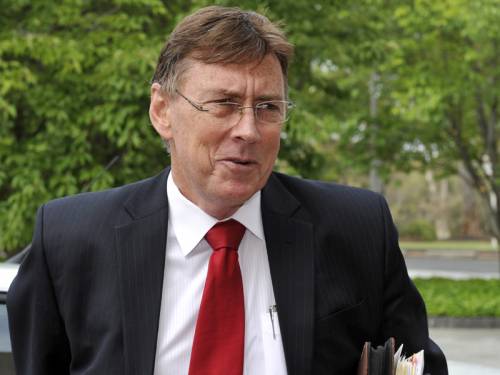 Northern Territory Chief Minister Terry Mills remains in the top spot despite a marathon 6.5-hour meeting where leadership issues were discussed.
Northern Territory Chief Minister Terry Mills has survived leadership rumblings during a marathon six-and-a-half-hour meeting of Country Liberal Party (CLP) MPs.
Following the Wednesday meeting in Darwin, Health Minister David Tollner was sacked from cabinet amid speculation he had been seeking to take the leadership from Mr Mills.
Mr Mills said there had been no vote on the leadership issue during the talks.
"There is an enormous amount of speculation out there but the fact is the overwhelming support of the party, of the room, supports the chief minister," Mr Mills told journalists.
"There was not a vote needed," he said.
The meeting was called to elect a new deputy leader of the NT Country liberals, following the resignation from that post by Robyn Lambley on Tuesday.
A CLP insider said Transport Minister Adam Giles put himself forward for the role as deputy and had the support of influential MP Alison Anderson.
But when Mr Giles went further and said he wanted to take the top job from Mr Mills, Ms Anderson withdrew her support for him, leaving him unable to mount a full leadership challenge, the source said.
Asked why Mr Tollner, who was also Minister for Alcohol Policy and Essential Services, had been sacked from cabinet, Mr Mills said he expected his team to make a positive contribution to cabinet decision making.
"I have made my decision that Dave Tollner won't be serving in the new cabinet," he said.
Mr Mills confirmed that Mr Tollner had on Tuesday been asked not to attend a cabinet meeting but said the two remained mates.
It was not the first time the two had clashed. Mr Tollner challenged Mr Mills as Opposition Leader in 2010.
The appointment of Mr Westra van Holthe as the new deputy chief minister means the CLP now has its third deputy in seven months, after Mr Mills dumped Kezia Purick as his deputy shortly after taking power in August last year so Ms Lambley could take the role.
"I am very, very supportive of Terry Mills as the chief minister," Mr Westra van Holthe said after he was appointed to the role.
The resignation of Ms Lambley and the sacking of Mr Tollner have led to a cabinet reshuffle, with details expected to be released on Wednesday evening.
Mr Mills' leadership has been strained after a poor result for the CLP in a recent by-election and community criticism for raising electricity prices by 30 per cent.
Last month a leadership challenge from NT Attorney-General John Elferink was aborted after he failed to garner enough support from his fellow MPs.
Opposition Leader Delia Lawrie said the meeting on Wednesday was six hours of CLP infighting.
"Terry Mills is kidding us if he expects Territorians to believe that his CLP is not in crisis after a six-hour bruising leadership challenge," Ms Lawrie said.