SBS Radio News
Timeline: shark attacks in Australia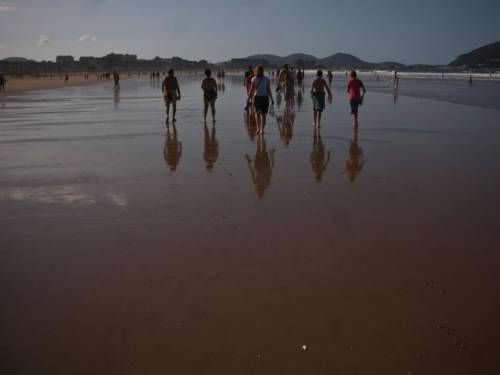 State by state data on shark attacks in Australia in the last 10 years.

RECENT FATAL SHARK ATTACKS IN AUSTRALIA
*July 15, 2012: Surfer Ben Linden, 24, fatally mauled by a great white shark near Wedge Island, north of Perth.
*April 1, 2012: Father-of-two Peter Kurmann, 32, taken by a four-metre white pointer shark after a morning dive with his brother.
*October 23, 2011: American George Thomas Wainwright, 32, died after a great white attacked him while scuba diving off Rottnest Island, WA.
*October 10, 2011: Perth businessman Bryn Martin, 64, disappeared while swimming off Cottesloe Beach. His shredded swimming costume is later found.
*September 4, 2011: A 21-year-old surfer died in Bunker Bay, Western Australia, after his body was ripped in half by a shark.
* February 17, 2011: Abalone diver Peter Clarkson, 50, was killed by two sharks while surfacing near Coffin Bay, South Australia.
* August 17, 2010: Nick Edwards, 31, bled to death after being attacked while surfing in Gracetown near Perth.
* December 27, 2008: Fisherman Brian Guest, 51, was taken by a shark when he was snorkelling at Port Kennedy in Perth's south.

* April 8, 2008: A 16-year-old boy from Wollongbar killed by a shark while bodyboarding off Ballina's Lighthouse Beach on the NSW north coast.

* January 7, 2006: Sarah Kate Whiley, 21, mauled by up to three bull sharks while swimming in waist-deep water with friends at Amity Point, off south-east Queensland's North Stradbroke Island.

* August 24, 2005: Marine biologist Jarrod Stehbens, 23, taken by a shark, believed to be a white pointer, while diving for cuttlefish eggs with colleagues off Adelaide's Glenelg Beach.

* March 19, 2005: Geoffrey Brazier, 26, attacked by a six-metre shark, believed to be a great white, as he snorkelled near the Abrolhos Islands, off Geraldton, 500km north of Perth.

* December 16, 2004: Nick Peterson, 18, killed instantly when attacked by a great white shark as he was towed behind a boat on a surfboard 300 metres off Adelaide's popular metropolitan West Beach.

* December 11, 2004: Mark Thompson, 38, attacked by a shark while spear fishing with two friends at Opal Reef, about 75km from Cairns in north Queensland. He died from a cardiac arrest soon after the attack.

* July 10, 2004: Brad Smith, 29, attacked by two sharks, believed to be a great white and a large bronze whaler, as he surfed near Gracetown in Western Australia's south-west.

* February 8, 2003: Bob Purcell, 84, attacked by a 2.5 metre bull whaler while swimming in Burleigh Lake on the Gold Coast in Queensland.

* December 16, 2002: Beau Martin, 23, attacked while swimming in Miami Lake on the Gold Coast in Queensland.

* April 30, 2002: Scallop diver Paul Buckland, 23, dragged from a mate's arms by a six-metre white pointer while trying to get on board a boat in Smoky Bay in the Great Australian Bight, South Australia.
Your Comments
Join the Discussion