SBS Radio News
A weekly look at what's hot and what's not in social media. Follow @lxzilber
UK Supreme Court #guilty of trendsetting
09 February 2012, 14:44 PM | Source: SBS, Lisa Zilberpriver
@UKSupremeCourt has just been launched - and it's so far nailed the tone of the microblogging Mecca.
Tweeting FROM court is no longer new - it's been around since December last year in the UK.
In the US, a Massachusetts court encourages it, and a tweet about bad coffee has already got an inmate off death row.

In Australia, there've been misgivings about reporters' tweets causing mistrials.
However, @UKSupremeCourt is the first official court feed, and a human rights group is anxiously urging the country's other courts to launch their own too.
That sounds progressive and forward-thinking, but speaking as a journalist who has to be super-careful when tweeting even from a personal account, I'm concerned for the sanity of the appointed court tweeter.
Maybe the powers that created the account were apprehensive too, because it remained silent for a couple of days before issuing its first missive - a perfectly lovely 'thanks for the warm welcome', with a link to 'the way we'll be using Twitter'. Big tick!
Then the excitement began, as some users asked the court whether it would be accepting Freedom of Information requests via the microblogging site.
Demonstrating that it has understood the medium brilliantly, @UKSupremeCourt' answered: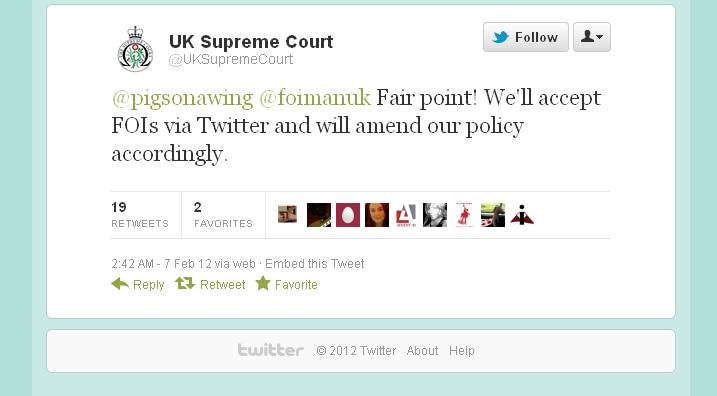 So far so good, but there are two points that may cause friction in the future.
For starters, there's the problem of the prolixity, the garrulity, the logorrhea typical of most forms of legal expression. How many lawyer- or magistrate-words even fit into 140 characters? My guess is three or four.
Apart from that, there's the much more serious issue of what kind of things a court might be tweeting, and whom they may prejudice. It's doubtful this court will be taking any risks with that - but how exactly will the line be trodden?
Journalists inhabit a world of expression that's as wild and free as 1950s Havana compared to that of the courts, but we struggle with what can and can't be tweeted for legal, ethical and professional reasons.
When using reports filed by news agency reporters on court proceedings, we often need to make the call on whether we absolutely trust the account of said reporter.
If the court so desired, it could provide UK journos with accounts of proceedings 'from the horse's mouth', sparing them the risk of taking a potentially-mistaken colleague's word for it.
The court made an initial foray into real-time updates with this: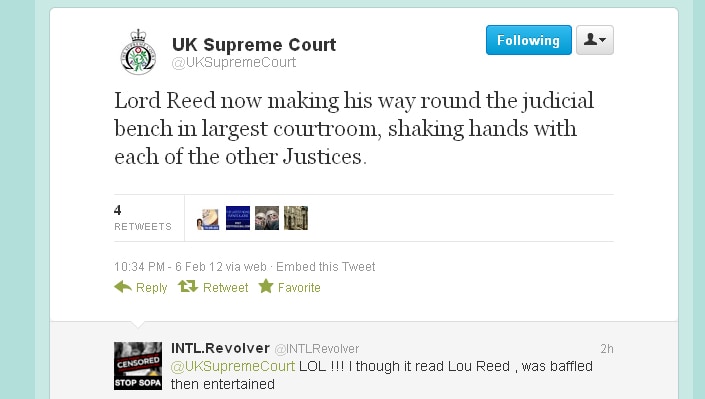 (Yes, my eye substituted a certain singer's name for the Lord in question's too, and it was entertaining).
... But since that tweet it's stuck to straight-out verdicts. I don't think it'll re-visit real-time tweeting during trials, though, due to the ubiquitous and almost-indelible nature of the beast.
If an appeal is launched later about a case that was live-tweeted, those earlier tweets may prejudice it with information that either the defence or the prosecution are seeking to debunk. They may also prejudice sentencing.
Then there's the thorny question of editorialising, and the fine line between an impartial tweet and an interesting one. How might Britain's highest legal institution do that?
I don't think it will. Obviously, official tweets will be bound by the same Contempt of Court rules as online news articles - and who better to adhere to them than the court itself? In the most unlikely case of a breach, could the court find itself in contempt of itself?
That will be especially important in cases spanning multiple jurisdictions like Gabe Watson's. He was found guilty of his wfie's manslaughter while on a scuba dive in Queensland, but then tried for premeditated murder in Alabama.
Perhaps Twitter could play along with that the way YouTube does - by geo-blocking tweets - but in any case it's probably best the court itself retains total control over what ends up where.
Does the advent of a tweeting court signal the beginning of a change in the nature of the beast (or bird)? Is Twitter slowly changing to more accurately reflect all organisms of society - including those who categorically cannot allow themselves a little personal opinion every now and then?
Or will @UKSupremeCourt stay in its own little corner of the Twitterverse, largely marginalised for having not much personality due to all the rules it needs to follow?
In the meantime - hats off to whomever the court tweeter is at the moment. He/she/they're doing a great job of adopting Twitter's unmitigatedly social tone - even entering into actual conversations like the one with the FoI people - with names like 'Pigs on a Wing', no less!
For early online journalists, getting a grip on the sensitivities around tweeting and publishing legal news reminded me of my years spent laboriously studying Spanish - in a university on the other side of the planet.
If every court around the globe eventually gets its tweet on, newbies to the craft of online legal journalism may find themselves learning straight from the pros, benefitting from a sort of (cyber)-immersion in a very different world - a little like moving to Spain.
Join the Discussion