Natalie has lost almost three decades' worth of memories. She can't remember giving birth to her children. She used to be a nurse but has forgotten her training.
The memory loss happened after Natalie underwent multiple sessions of electroshock therapy to treat severe depression. But she says the memory loss is worth it . The treatment worked. She can now get through the day without the debilitating, dark moods and suicidal thoughts.
Electroconvulsive therapy (ECT), also known as electroshock therapy, is used to treat people with conditions like mania, psychosis and severe, treatment-resistant depression.
In Australia, the number of ECT treatments has almost doubled in the last ten years, with just under 30,000 sessions taking place in the last financial year. The Royal Australian and New Zealand College of Psychiatrists says ECT 'is a highly therapeutic procedure with a strong evidence base".
Most people don't suffer the extreme memory loss that Natalie had, but short term memory loss is common. ECT can also have a high relapse rate, and many patients need 'maintenance ECT" just to stay on an even keel.
This week, Insight lifts the lid on a highly stigmatised treatment which is changing patients' lives in all sorts of ways.
Presenter: Jenny Brockie   Follow @jenbrockie
Producer: Meggie Palmer   Follow @MeggiePalmer
Associate Producer: Joel Tozer  Follow @jttozer
Associate Producer: Laura Murphy-Oates  Follow @lauramoates
Web Extra: What is electroshock therapy?
The position statement by the Royal Australian and News Zealand College of Psychiatrists (RANZCP) says:
"Electroconvulsive therapy (ECT) is a therapeutic medical procedure for the treatment of severe psychiatric disorders. It has efficacy in treating clinical depression, mania and psychosis, and it is occasionally used to treat other neuropsychiatric conditions. Its primary purpose is to quickly and significantly alleviate psychiatric symptoms."
But some argue there are no lasting benefits and "that its use cannot be scientifically justified."
How does it work?
The patient is given an electrical current to induce a seizure for therapeutic purposes. The treatment is always done by a medical practitioner. Before the treatment, a muscle relaxant and an anaesthetic is administered so there is minimal physical movement during the seizure. The patient is anaesthetised during the procedure and awakes several minutes after the procedure is completed.
Read more about the procedure here.
How ECT is helping Michael
Michael has regular ECT sessions to treat his major recurrent depression. He says he started looking into ECT when all the other options started to run out."

The prevalence of ECT treatment in Australia
While we don't know the exact number of people who have ECT, we do know that the number of treatments has almost doubled in the last ten years, with just under 30,000 sessions taking place in the last financial year. Here are the figures Insight obtained from Medicare.
Medicare items 14224 (ECT) processed by financial year: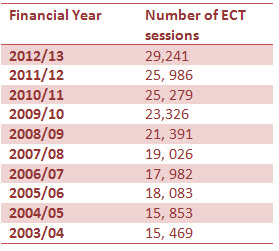 What is Deep brain stimulation?
Deep brain stimulation (DBS) is another procedure used to treat treatment-resistant depression. It's unrelated to ECT. In the clip below, psychiatrist Professor Paul Fitzgerald from Monash University tells Insight how Deep Brain Stimulation is used to treat patients.
DBS is a surgical treatment. A medical device called a 'brain pacemaker'isimplanted into the patient and sends electrical impulses to specific parts of the brain. These electrodes are powered by a stimulating battery which is implanted under the skin in the chest. The type of stimulation can be adjusted using an external remote control which is operated by the treating doctor. For more information, click here. 

Where can I get help?

Join the discussion by using the #insightsbs hashtag on Twitter, posting on our Facebook page, or commenting below.