A woman who regrets saving the life of her daughter's rapist. A woman who decided to donate her perfectly healthy kidney to a perfect stranger. A man who walked past someone dying on a mountain – and says he's thought about that decision every day since.

They all join Insight this week to discuss whether there is any moral obligation to save a life. What if it means putting your own life at risk, or saving someone you despise or hardly know?

We also look at cases where someone in dire need has been ignored – sometimes with fatal consequences. Psychologists refer to this as 'the bystander effect" which says that if there are multiple people at the scene of a crisis, everyone assumes someone else will be the one to step in to help.

One guest on the program wants a 'duty to rescue" law, effectively forcing Australians to help others if they are in danger.

Presenter: Jenny Brockie Follow @jenbrockie
Producer: Elise Potaka Follow @elisepotaka
Associate Producer: Luan McKenna Follow @LuanMcKenna

Web Extra
Here's what some of you had to say about saving lives on Weibo, Twitter and Facebook.





Translation: I saved someone at the roadside a few days ago. A kid suffered from epilepsy and fainted at the roadside. I called the police and ambulance. I'm very disappointed with those onlookers who did nothing but watch.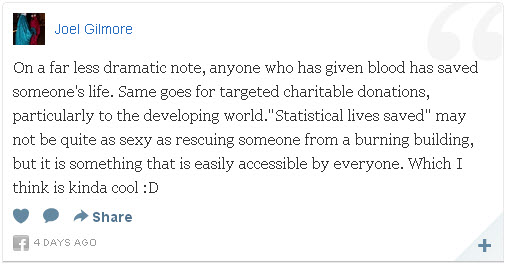 What are 'duty to rescue' laws?

'Duty to rescue' is a concept in law where someone can be held liable for failing to come to the rescue of someone who is in peril. For example, the paparazzi that arrived on the scene of Princess Diana's car crash in Paris took photos instead of trying to help. They were charged with failing to help under the Duty to Rescue law in France.

In common law there are by and large no duty to rescue laws. In civil law it is common to have duty to rescue laws that oblige people to help others they find in distress, unless doing so puts them in harm's way.

Good Samaritan laws are those that protect people from prosecution who go to help others they find in distress.

Duty to rescue laws in Australia

In Australia there are no duty to rescue laws, except in the Northern Territory. But Good Samaritan laws exist in most states and territories, with the exception of Queensland and Tasmania.

View