Featured Blogger: alanabread.com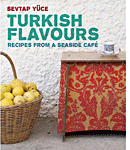 Turkish Flavours by Sevtap Yüce


Firmly grounded in the notion of ingredients speaking for themselves, Sevtap Yüce's debut cookbook Turkish Flavours: Recipes from a Seaside Café presents a collection of wonderful recipes spanning from her childhood in Turkey to her Australian life as the owner of Beachwood, her café in Yamba, New South Wales.

The book couples beautiful recipes and accompanying photography with Yüce's earnest stories of her Turkish upbringing in Ankara. Her nostalgia of eating well is heightened by tales of family members harvesting their own fresh produce and lovingly preparing their staple ingredients from scratch, including yoghurt and filo pastry.

The recipes are heartfelt and unpretentious ranging from tahini flatbreads and her Baba's Honeycomb butter for breakfast. An entire chapter is dedicated to mezze providing an abundance of dips for sharing platters. Her desserts offer a refreshing take on established dishes; polenta and semolina cakes are united with caramelised figs, dates and nuts.

Turkish Flavours offers a brief yet breathtaking snapshot of a culture hinged on sharing food with family and friends. A charming publication.








Digital media student Alana loves pixels and food. Her blog, alanabread.com, illustrates her love of homely cooking for friends and family. She hopes to one day pursue a career in food or photography, or both.




Coming Soon
Tour de France fever (Books)
June
o Tour de France Guide
o Cadel Evans: Giving His Best
o A Taste of France
o A Cook's Tour of France

Budding Stars of the Paris Opera Ballet (DVD)
June
Treasures Decoded (DVD)
June
Colour Theory (DVD)
June
Max Allen's Wine Know-how (Book)
July
Video Spotlight
Prisoners of War (on iTunes / DVD)
Drama Series
Dirty Business, How Mining Made Australia
Documentary
Factual Entertainment
Luke Nguyen's Greater Mekong, Series 2
Food & Lifestyle
Factual Entertainment
Exploring China, A Culinary Adventure
Food & Lifestyle
Factual Entertainment
Factual Entertainment
Venice 24/7 (DVD / iTunes Digital Download)
Documentary
Documentary
Carla Bruni: Little French Songs (CD / on Tunes)
Contemporary
At Last (Mother's Day 2CD / on iTunes)
Contemporary
Madeleine Peyroux: The Blue Room
Jazz & Blues
Richard Clayderman: Romantique
Classical
Classical
Classical , Contemporary
Contemporary
Classical
Jazz & Blues
Jazz Club: Non-Stop to Brazil (CD / on iTunes)
Jazz & Blues , Jazz Club
Arts & Music
Food & Lifestyle
Feel Good Food, Hardback Edition (Cookbook)
Food & Lifestyle
My Feast with Peter Kuruvita (Cookbook)
Food & Lifestyle
Luke Nguyen's Greater Mekong (Cookbook)
Food & Lifestyle
Everything You Ever Wanted to Know about Classical Music
Arts & Music
Arts & Music
Two Greedy Italians Eat Italy (Cookbook)
Food & Lifestyle
La Cucina Italiana, The Encyclopedia of Italian Cooking
Food & Lifestyle
Food Safari, Paperback Edition (Cookbook)
Food & Lifestyle
As heard on Weatherwatch
SBS ONE
Ólafur Arnalds: For Now I Am Winter (CD / iTunes)
The new album from the Icelandic composer, multi-instrumentalist and producer - one of the world's brightest young composers.
SBS 2
Tommy Fleming: Begin (CD+DVD / iTunes)
Fleming makes every song his own, his unique and powerful style touching emotions that only music can reach.
About SBS Shop
Welcome to the SBS Shop, showcasing all current SBS products. Click on the product title or image for more information. Click on BUY or BUY IT NOW to purchase products through Dymocks Online. Click on Play or Watch Preview for product samples.
Please note, merchandise listed here may not be available at all Dymocks stores but all current SBS DVDs, Music, Books and other merchandise can be purchased online.