Videos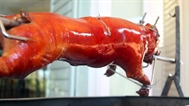 Spit-roasted suckling pig (lechon baboy) is always a crowd favourite at a party, but it is hard to perfect. A spit-roaster can be easily hired from a barbecue-hire service, found in most areas. They can supply you with all the utensils you'll need, as well as the coals.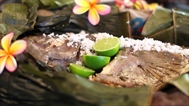 An umu (also known as a lovo or hāngi) is a popular traditional method of cooking throughout the Pacific Islands. This recipe will help you achieve the signature taste of umu-cooked fish in your home kitchen – without the need to dig up the backyard!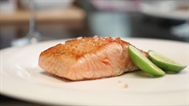 Salmon is one of the most popular species of fish in Australia, and there are so many different opinions on the best method of grilling. Follow this recipe and you won't be disappointed.
Next On
Episode 2 : Episode 2
Thursday 10 January 2013, 8:00PM
Believing that travelling by road in the Philippines is best done by local means, Peter Kuruvita experiences a road trip in all manner of...
Read More

Sensational recipes and rich photography, from the S. Pacific, Sri Lanka, Indonesia & the Philippines.

Discover acclaimed chef Peter Kuruvita's culinary journeys through the regions of Sri Lanka and the Pacific.