ADbc: new comedy history-based quiz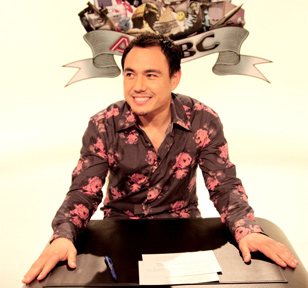 "Those who do not learn from history are condemned to repeat it."
Premieres Thursday August 27 at 8.30pm on SBS ONE.

SBS presents ADbc, a new comedy history based quiz program hosted by Sam Pang.

It's world history from the stone age to the 20th century – but not the kind of history you were tested on at school.

ADbc is full of facts and games that will inspire some intelligent discussion and some blatantly silly behaviour.

Panelists come face to face with strange moments in the history of man: the early days of rhinoplasty in 8th century India, ancient Greek scuba diving, and how the start of WWI came down to a dodgy driver.

Guests are also invited to sample the food of the ancients, such as the locusts John The Baptist lived off in the desert, or the meaty cocktail (lamb blood and vodka) served in the court of Kublai Khan.

The format of the program is quite simple and the rules easy to follow:

There are two teams of two (the AD team and the bc team) consisting of an academic and a comedian working together in an attempt to win the game. Can the historian be funny? Will the comedian know anything about history?

Regular panellists include the wonderful Meshel Laurie and the wise-cracking Tony Martin, Dr Andrea Rizzi of Melbourne Uni, Professor Graeme Davison from Monash, and writer Alice Pung. Other Guests include Matt Preston, Kate Langbroek, Judith Lucy, Graeme Blundell, Celia Pacquola, Andrew Rule, Angus Sampson and Merrick Watts among others.


Episode One (Thursday August 27 at 8.30pm)
Guests: Emily Booth, Tony Martin, Matt Preston, Celia Pacquloa
Popular food critic and Masterchef judge Matt Preston shows his love of history as he lines up with historian Emily Booth, and comics Tony Martin and Celia Pacquola.
Matt wields his historical knowledge as panelists are asked to drink a toast to Emperor Kublai Khan, retrace the growth of the Dutch empire, and find out what Russian writers of the 19th century used to eat.

Watch a video preview below.
Sam Pang - Host

Sam Pang is a presenter, writer, broadcaster and producer.
Sam began his media career with 3CR community radio, graduating to Melbourne's iconic independent radio station Triple R where he presented a unique take on the weekly sporting news. He soon became a regular member of the morning shift and can be heard every day 6-9am co-hosting on The Breakfasters.
In 2008 he produced a hugely successful season of the one man show, Shadow Boxing. Later that year he co-wrote, co-directed and appeared in his short film Alone, Together, which won an official screening at the Melbourne International Film Festival.
He has written for numerous television shows and projects over the last few years, most recently for the presenters of the AFI Awards.
Recently he ventured into the world of Eurovision; co-hosting live from Russia with Julia Zemiro and returned relatively unscathed!
Sam lives in Melbourne and doesn't have a dog.
top